Dr John WorldPeace JD Anti Trump Commentary August 29, 2017 to January 4, 2018
THIS ARTICLE IS MORE NONSENSE - In that it discounts the end times aspect of the future of Israel per the Evangelicals who are part of virtually all right wing Protestant Christian churches.
From the article: "In the case of Jerusalem, we support President Trump's decision because it is an act of historic justice - and an overdue recognition of modern reality."
Well this is nonsense.
The historic justice is that the Jews were driven from Israel and the Second Temple of Solomon destroyed by the Romans in 72 CE. In 632 the Muslims conquered what was Israel and built the Dome of the Rock and the Al Aqsa mosque on the Temple Mount where Solomon's Temple allegedly stood.
The Muslims controlled all of old Israel from 632 to 1948 when part was carved out for the postage stamp nation of Israel by the UN.
The Christians captured Jerusalem in 1099 and held it until 1187 when Saladin recaptured it. So except for this brief period the Muslims have basically owned and occupied Palestine. That would be about 1400 years except for the postage stamp part allocated to Israel by the UN in 1948.
So there is no historic justice for the Jews. Palestine was and is the historic domain of the Muslims.
And never forget that both Jews and Muslims are descendants of Abraham, the Muslims through Ismael the first born of Abraham and the Jews through Isaac the second born of Abraham.
It is interesting to me that the Zionists (Zionist as opposed to Jews in my glossary who are fascist radicals and who presently dominate Israel.) have tried to hijack the term anti Semitic as only applying to Jews and not to both Jews and Muslims. Both are of Semitic origin.
So notion of Jewish history in Israel is nonsense. The last 1400 years of history show it to be Muslim. We all know how the map of Europe and the Middle East has been drawn and redrawn over the last 2000 years. The Jews have not had continuous possession since they took over the land of Canaan sometime around 1250 BCE. in 598 BCE the Bablylonians conquered Israel and took the Jews off to Babylon. In 538 BCE they were allowed to return by Cyrus the Great. In 72 CE the Romans dispossessed the Jews of Israel after the Jews crucifixion of Jesus about 33 BCE.
So the Jews claim Jerusalem since 1250 BCE when they say God gave it to them. Well if God gave it to them, God also took it away from them. In 72 CE and permanently in 632 CE when he gave it to the Muslims.
This is the reality of the history of Israel. Now if we take this argument Zionist position as fact then we need to start another war in Europe to redraw all the national lines of all the nations going back who knows how far. It is stupid and absurd to even contemplate what the Zionist are suggesting, which is they have owned the land of Israel continuously since 1250 BCE and they want it back and have a right to have it back but no other peoples of Europe are allowed the same consideration much less the Native Americans are to be allowed to dispossess the present owners of America.
I hate stupid arguments from supposedly intelligent people.
Now further, politically, American Democracy does not promote apartheid nations like Israel. So why are we supporting Israel who is just another country who does not give the same level of citizenship to Muslims as it does to Jews.
Further, we have the illegal annexing of Israel to the areas of Palestine is has occupied since 1967.
America is not a promoter of lawless criminal behavior on an International scale.
So politically the writer of this article is suggesting that the Jerusalem decision has little to do with the Evangelicals, and everything to do with historical political justice. Really give me a break. Jerusalem by Trump was not a political decision but a religious decision.
America does not believe in apartheid states, in illegal annexation of occupied territories, the maintaining of what amounts to a concentration camp for 2 million Palestinians in Gaza. How ridiculous.
So we really have to come back to what makes sense. The Evangelicals are pushing the Book of Revelation Scenario against the secular politics of America for truth justice and the American way in regards to Israel and Jerusalem.
If I am a minority of one, the truth is still the truth.
Dr John WorldPeace JD 180105
Why do evangelicals support Trump on Jerusalem?
Do evangelicals support Trump's policy because of a belief in Armageddon and the End Times?
BBC.COM
THE NONSENSE OF THE ZIONIST IN ISRAEL
It truly astounds me how a little postage stamp nation like Israel can cause so much trouble in the world. It astounds me that the United States through the anti-American Trump can be influenced by Ben Netanyahu, the fascist leader of the apartheid state of Israel that maintains a Palestinian concentration camp in Gaza.
HERE IS A WAKE UP CALL FOR TRUMP AND HIS MISGUIDED AND BLIND CHRISTIAN FASCISTS OTHERWISE KNOWN AS EVANGELICALS.
HERE IS THE REALITY ABOUT ISRAEL AND CHRISTIAN INSPIRED AMERICA.
1) Look around folks. God said the descendants of Abraham through Isaac his second born son would be like the stars. The truth is that the Jews have never had a large population. Right now there are about 15 million Jews. There are about a billion Muslims and there are about 2 billion Christians.
2) Now we have to acknowledge that Jews are Semites. Muslim are also Semites. Two branches of the Patriarch Abraham. Isaac of the Jews. Ismael of the Muslims. And we have the melting pot of Americans who come from all the nations of the world. They bring to America the religions of all the world. But American is essentially a Christian oriented nation. And as Christians, Americans have welcomed all religionists. In America all nations, all religions, all races live in peace. America is a Christian model for the world in regards to tolerance and the subordination of religion to a democratic all inclusive secular politics based on freedom and justice for everyone.
3) Israel is a radical fascist nation that proclaims that it is a nation of Jews for the Jews. It is an elitist exclusive fascist apartheid nation who is moving toward a Theocracy like their enemy Iran. The dream of the Zionist is a Nation where the Orthodox Jews have a position of power like the Ayatollah. And the Zionist claim they are God's Chosen People. Really this is pretty arrogant based on the facts and reality since the crucifixion and resurrection of Jesus.
4) God had a covenant with Abraham. But in time the Babylonians conquered the Zionist and took them off to Babylon and destroyed the First Temple of Solomon. Sounds like the Zionist displeased God. You know like when Moses came down from the mountain with the Ten Commandments to find the Zionist worshiping a Golden Calf. Then there was the crucifixion of Jesus Christ, the Messiah God promised and sent to the Zionist. And there was the destruction of the Second Temple of Solomon by the Romans and the dispersal of the Jews through out the world 40 years after the crucifixion of Jesus by the Zionist. It was not just the high priests, it was all the Zionist. Jesus allegedly performed so many miracles that it is not possible to write them all down. Yet all those he healed were not present at the crucifixion and in fact demanded Pilot free Barabbas and crucify Jesus when given a choice by Pilot. Go figure, right.
5) Then there was in 632 the giving of the original homeland of the Jews to the religion of Ismael through Mohammed, Islam. The Jews have not dared to try to take Israel back. They were far out numbered by the Muslims. The Christians tried to take the Holy Land back and succeed for about 100 years in the 1100's but they could not hold onto the Holy Land. The Muslims built the Dome of the Rock and the Al Aqsa mosque on the Temple Mount where it stands today. It seems pretty obvious among the Christians, Muslim and Jews who God favors the most and the least.
6) The Jews were well on their way to extermination by Hitler with the aid of all of Europe. And they were not allowed to return home after the end of WWII. God turned the Jews over to the Babylonians, then to the Romans, then to the Germans. Think about that. God turned his Chosen people over to these more powerful nations. Does not sound like they were or are Chosen.
7) I have a belief that the Jews were actually given an opportunity for redemption through the Holocaust. It was a purging of sorts. And I believe there was an intent by God that due to the Holocaust the Zionist would become rabid advocates for the end of genocide world wide. But the Zionist just cried and cursed the world for allowing the Holocaust and genocide of the Jews and could care less about the rest of the world. And in addition they have taken the play book of the Nazis and applied it to the Palestinian Muslims. You know how the Jews were removed from Europe their possessions and land taken and not returned. So is that not what the Zionists have done to the Palestinians? So for me the chance for redemption of the Jews was rejected by the Jews. Instead of becoming rabid advocates for the end genocide they just cried about the genocide of the Jews and set up their own concentration camps for the Palestinians and prevented them from returning to their homes.
8) Now back to the fact that the Zionist, the progeny of Isaac have never had numbers like the stars. If you open you eyes you will see that out of Isaac and Judaism a messiah came in the person of Jesus Christ. The Zionist in order to maintain the status quo crucified him. Those Jews who accepted Jesus and became Jewish Christians were told by the Zionist religionist bureaucrats that they could not continue to be Jews and Christians. They could only be one or the other. This ended the Jewish branch of Christianity and the focus of Peter and Matthew who were reaching out to the Jews. And it left Paul's mission to the Gentiles. It was Paul's mission that survived and thrived and still does so today.
9) So the uncountable Christians whose religion has evolved and descended from Isaac and who have surpassed the Muslims are really the descendants of Abraham through Isaac that God was talking about that would match the numbers of stars. God told Hagar that her descendants would be great but the promise to Sarah was that her descendants would be almost infinite. And so it is. 2 billion Christians, 1 billion Muslims and 15 million Jews.
10) So what is my point. God has abandoned the Zionists in favor of the Muslims and the Christians. And God has blessed America beyond all nations of the world. Americans are the favored children of Isaac. NOT THE JEWS. Just compare America to the postage stamp beggar nation of Israel who depends on America for its survival. The Zionist do not attribute their return to Israel to God but to the United States of America. President Harry Truman backed the Jews at the UN and that is why there is an Israel today.
11)The land of Israel and the old city of Jerusalem belong to the Muslims with a postage stamp part of it allocated out of international kindness to the Jews. The Zionist are not thankful. They are determined to reassert themselves as God's chosen people. But that it not the plan God seems to have. It is the plan of a rejected postage stamp nation that was not about to accept Jesus as their messiah even today when they see 2 billions Christians and great Christain power in America and Europe and minimal Zionist power in Israel.
12) Trump has shaken things up in Israel for the purpose of votes from the Evangelicals who stupidly follow the False Book of Revelation and the False prophets like John Hagge of Texas who promote it for personal power. Jesus died, was resurrected after three days, that was the Second Coming and said he would be present until the end of time. The False Book of Revelation seems to claim that Jesus is not present and working on the earth which I think every true Christian believes is exactly what Jesus is doing. So the Evangelicals are mixed up in their heads and not thinking straight. There is not going to be a Second Coming. It happened 2000 years ago.
13) So this is a wake up call to Evangelicals and Christian Americans. America is the New Jerusalem. Christianity is the most embraced religion on the planet. America is the model for the New World Order, the New Jerusalem. It is an all inclusive nation, EVEN THOUGH THE ANARCHIST TRUMP IS TRYING TO DESTROY THAT 250 YEARS OF FACTUAL TRUTH, it is internally a peaceful nation with liberty and justice for all. It is a nation against religioUS extremist of Jews and Muslims and Hindu and Buddhist. It is a secular nation. It is the model for a global human society which is all inclusive of all nations, religions, races and the equality of women worldwide. Israel is nation of Jews for Jews and deniers of Jesus as the Messiah. Israel is a radical racist, fascist, apartheid state that represents all these things that Americans reject. Not to mention the concentration camp the Zionist maintain in Gaza for Palestinians.
14) Wake up America. History has proven the we are the Chosen People of God and it is an affront to God to abdicate that truth and that reality and continue to allow wrong head Evangelicals and their messiah Donald Trump to back Israel when God had undeniably rejected them most dramatically since the crucifixion of Jesus. The Christians are carrying the baton of Abraham and Isaac since their embracing of Jesus as messiah.
15) Trump is demanding loyalty from all the nations of the world or he is going to cut off their money. Maybe he needs to demand that the Zionist profess their believe in Jesus as messiah or cut off their unlimited funds flowing in from America. And if that seems too extreme, then the establishment of a Nation for the Palestinians and the abolishing of the concentration camp in Gaza, the return of all Palestinians refugees to Israel and the end of illegally building on occupied land and compensation for the Palestinians from Israel as the Jews demand compensation and return of property that was taken from the Jews by the Nazis. No double standard is acceptable. The Zionist must give the same as they demand. The United Nations owns the Zionist problem. A boycott of Israel by the nations of the world will work on Israel to get in line with international law the same way it works on Iran and North Korea.
If I am a minority of one, the truth is still the truth.
Welcome to 2018.
Dr John WorldPeace JD 180103
Emboldened Israeli Right Presses Moves to Doom 2-State Solution
After President Trump's recognition of Jerusalem as Israel's capital, Prime Minister Benjamin Netanyahu's party has seized momentum to strengthen Israel's rule of…
NYTIMES.COM
TRUMP IS A PATHOLOGICAL LIAR AND I ASSOCIATE HIM WITH HIS FATHER LUCIFER AND IS THEREFORE A FALSE CHRISTIAN. AND BECAUSE OF HIS LIES, HE DEMEANS THE OFFICE OF PRESIDENT AND UNDERMINES THE RESPECT THE OFFICE OF PRESIDENT DEPENDS ON.
FROM THE ARTICLE BELOW:
"President Trump gave an impromptu half-hour interview with the New York Times on Dec. 28. We combed through the transcript and here's a quick roundup of the false, misleading or dubious claims that he made, at a rate of one every 75 seconds. (Some of the interview was off the record, so it's possible the rate of false claims per minute is higher.)"
FROM THE NEW TESTAMENT
"You are of your father the devil, and you want to do the desires of your father. He (The Dark Lord) was a murderer from the beginning (Trump murders by way of denying health care to children and to the poor. A violation of the Commandment, Do not murder.) and does not stand in the truth because there is no truth in him. (No one can deny that Trump is a top of the line pathological liar and a violation of the Commandment, Do not bear false witnesses.) Whenever he speaks a lie, he speaks from his own nature, for he is a liar and the father of lies. But because I speak the truth, you do not believe me. Which one of you convicts me of sin? If I speak the truth, why do you not believe me? He who is of God hears the words of God; for this reason you do not hear them, because you are not of God." John 8:44-47 The red letter words of Jesus.
Fundamental Evangelical Christians who are a minority of Protestant believers, support Trump and are one of the main factors for his election as president. Voting for Trump means that one owns the lies he told. Continuing to support Trump knowing that he is a pathological liar means that one continues to own the lies he tells. Everyone lies but as this article says, "Trump lied every 75 seconds in the 30 minute interview". That is a lot of lying but it is typical of Trump.
The question is does he realize he is lying? Does he believe all the lies he is telling. It is hard to imagine someone who actually believes that everything out of his mouth is the truth when a more than significant amount of the things he says are easily provable lies. If he believes his lies, he is insane, he is putting America domestically and in foreign affairs in jeopardy. Leaders of other nations cannot be charged with trying to decide whether what he is saying to them can be relied upon.
When someone lies to me, and I always begin my first interactions with anyone believing everything they say is true. But when I find out they lied to me, no matter when in the future, then I begin to review everything they ever told me. Most of the time I disconnect from this person if I feel the lie is significant.
However, my relevant point regarding this article is that Fundamental Evangelical Christians are following Trump even though he totally operates outside the Ten Commandment "Do not bear false witnesses." Again not a few lies but lying virtually once every two minutes. That makes him unfit for office and compels me to point these lies out to children and tell them that it is wrong for Trump as president to lie to Americans as well as the world human society. I am telling them the president cannot be trusted and that lying in the capacity of President of the United States demeans our country.
MAKE AMERICA GREAT AGAIN is the poison pill for America and the world. The double speak of Donald Trump.
Dr John WorldPeace JD 171231
Analysis | In a 30-minute interview, President Trump made 24 false or misleading claims
Here's a roundup of misleading claims made by the president in his interview, many of which we've fact-checked before.
WASHINGTONPOST.COM|BY FACT CHECKER
AMERICAN EVANGELICAL CHRISTIANS WHO SUPPORT TRUMP'S SUPPORT OF ISRAEL'S ATTEMPT TO ILLEGALLY ANNEX OCCUPIED TERRITORIES TO ISRAEL ARE SUPPORTING ZIONISTS WHO BELIEVE JESUS IS A FALSE MESSIAH AND THERE WAS NO RESURRECTION.
I AM NOT TALKING ABOUT ANY ISSUE BUT THE ONE ABOVE AND SUBMIT THE FOLLOWING REASONS.
1) American Evangelical Christians who support Israel's illegal taking and annexing of the areas of Palestine it occupied during and since the 1967 War are probably going against God's will.
2) Zionist consider Jesus Christ a FAKE AND FALSE MESSIAH. No one denies this. The Zionist are still waiting for the messiah. The Zionist claim that the resurrection was FAKED. The Zionist Religious Bureaucracy 2000 years ago manipulated Pontius Pilot into crucifying Jesus because Jesus claimed to be the Son of God. Zionist today still support that position: That Jesus Christ was not the Messiah. This is the entire Jewish population of Israel embracing and owning this belief. This is a bright line position that requires Christians to take great care and caution when supporting Israel.
3) In regards to secular matters, such as the defense of the interests of the United States, there is no problem creating an alliance with Israel and the Zionists.
4) In regards to helping the Zionists break international law which prohibits any nation from annexing territories occupied during a war, the United States cannot support international criminal acts.
5) In regards to Israel being an apartheid state, in that Palestinians who are Israeli citizens being second class citizens of Israel and Jews being first class citizens, America cannot support this form of corrupted democracy. America cannot under these circumstances support Israel's declaration that it is a Nation of Jews for Jews as a justification for creating an apartheid state. Apartheid states are repugnant to the United States since the Civil War. Americans also cannot support Israel due to it maintaining a concentration camp in Gaza for Palestinians.
6) In regards to Israel's claim that it has always been a nation. This is FALSE. Around 30 CE the Zionists were responsible for the crucifixion of Jesus Christ. It cannot be denied that 40 years later in 70 CE the Romans raised Solomon's Temple in Jerusalem and in 135 CE the Jews were removed from Israel and this was the beginning of the Jewish Diaspora. At this point the Jews had no claim to Israel.
7) At the time of the crucifixion of Jesus all Christians believe that through Jesus Christ Christians became the Chosen People of God. Christians one and all believe that unless a person acknowledges Jesus Christ as their lord and savior they are not saved and will be condemned to hell after death.
8) The Christians did not take possession of Israel and in 636 the Muslims did take possession of Israel. During the Crusades for about 100 years in the 1100's the Christians did possess Israel but they lost it again to the Muslims who retained possession of all of Israel until the United Nations gave the Zionist part of it as their homeland.
9) . Evangelical Christians must consider that God expected the Christians to take possession of Israel and when they didn't God established Islam through Muhammed, the progeny of Abraham's first born Ismael, and gave the Muslims possession of Israel. So with regards to Israel, God dispossessed the Jews after the crucifixion of Jesus and 600 years later gave possession of Israel to the Muslims. This is beyond prophesy. THIS IS WHAT ACTUALLY HAPPENED. Only the reason for God giving Israel and Jerusalem to the Muslims are debatable. The facts are not. The facts indicate that God has abandoned the Zionists in favor of the Christians who believe in Jesus as the son of God and Messiah as the Chosen People of God with the Muslims in possession of Israel. Through Abraham the father of Ismael patriarch of the Muslims, the Muslims have a legitimate claim to the land of Israel. Not to menetion 1400 years of actual possession.
10) The Book of Revelation is a FAKE AND FALSE prophesy becasue, it was not written by Jesus or any of the Apostles. It was written by John the Elder who was possibly a disciple of John the Apostle per Catholic Bible Commentary. Jesus said no one knows about the end times but God. This means that Jesus has declared any such prophesy about the end times is FALSE.
11) Further, Jesus was crucified, died and buried, and rose from the dead 3 days later. His resurrection was the Second Coming of Jesus. Jesus said "I am with you always and where two or more are gathered I am present." Every Christian who goes to church believes that Jesus is present. If that is so, and Jesus is present on the earth, the idea of a Second Coming per the Book of Revelation is illogical and nonsense.
SO WHAT IS THE POINT.
12) The point is that Donald Trump is illegally supporting the Israeli take over of Palestine and specifically Jerusalem per international law. This makes him a co conspirator to the Zionists internationally illegal acts. It also makes him a subverter of God's will by trying to support the Zionist claim that they own Israel when the facts on the ground indicate that God punished the Zionists for the crucifixion of Jesus and allowed the razing of the Second Solomon Temple by the Romans and removed them from Israel in 70 CE and gave possession of the land of Israel to the Muslims.
13) Donald Trump hates Muslims. That is undeniable. Who knows why? Something to do with favoring Israel. Maybe for future business deals.
14) We know that Donald Trump's Ego is a prostitute in that it will do anything for a little praise and recognition. The Zionist, like Putin know that Trump is for sale. Who knows what deals Jared Kushner has been making with the Zionist behind the scenes. Who knows how many hotels are ready to be authorized by the Zionists when Trump is out of office. The Zionist have already shown their hand. They are ready to name buildings and streets and such for Trump. This is the Trump dream come true. Another Hitler trait.
WARNING TO AMERICAN EVANGELICAL CHRISTIANS
15) Supporting Trump's collusion with the Zionist to break international law, to support Israel the apartheid state, to support the Israeli concentration camp in Gaza, to subvert the apparent will of God to not allow the Zionist to possess East Jerusalem, the old city of Jerusalem, much less the Temple Mount, and the undeniable fact that the Chosen People of God are the Christians since the birth of Jesus, and generally Trump supports the Zionist who deny Jesus was the messiah, crucified Jesus for claiming to be the son of God, and who claim the resurrection is FAKE. These last three realities with regards to the Zionists should be enough for any Evangelical to wake up and reject supporting Israel except in a secular pack with the United States for mutual defense.
16) Supporting Israel's claim to be the Chosen People of God sure appears to be the wrong position to take for Christians who believe they are the Chosen people of God through being saved.
Dr John WorldPeace JD 171227
http://johnworldpeace.com
Israel plans a Trump station as Trump-naming frenzy sweeps country
A planned high-speed rail station in the Old City of Jerusalem will be named after President Donald Trump, Israeli Minister of Transportation Yisrael Katz told CNN.
CNN.COM
THE EVANGELICAL BASE OF THE TRUMP CANCER NEEDS TO SERIOUSLY CONSIDER THAT THE CHRISTIANS ARE THE CHOSEN PEOPLE OF GOD NOT THE ZIONISTS.
Without the Evangelical Christian base Trump would not be President and the Zionist will never possess East Jerusalem.
THE JERUSALEM REALITY
Christians, Jews and Muslims all use God as their primary argument regarding Jerusalem. So below I am talking about God.
1) The Jews rejected Christ and crucified him about 30 CE in Jerusalem. He rose from the dead 3 days later per the Christian New Testament. He said, "Lo I am with you always" and "Where two or more are gathered, I am there." Therefore the Book of Revelation about Christ's return is FAKE AND FALSE. Jesus cannot return when he has not left since his Resurrection. The Resurrection was the Second Coming. The Rebirth. NO CHRISTIAN WHO ATTENDS ANY CHURCH WILL STAND UP AND SAY CHRIST IN NOT PRESENT. THAT IS NOT WHAT CHRISTIANS BELIEVE. Think about this.
2) In about 70 CE the Romans razed the Second Temple of Solomon and disbursed the Jews which is the Diaspora of the Jews.
3) In 636 the Muslims, captured Jerusalem. The Zionists and Muslims and Christians believe that Ismael was the first born son of Abraham with Hagar, the hand maiden of Abraham's wife Sarah. Isaac was the second born son of Abraham with his wife Sarah. Ismael, the first born son of Abraham is the ancestor of Muhammed who established Islam. God in the book of Genesis promise Sarah and Hagar that their descendants would be without numbers.
4) So after expelling the Jews from Jerusalem in 70 CE, God gave Jerusalem to the Muslims. And from 636, except for a hundred years in the 1100's, when the Christians ruled, the Muslims possessed Jerusalem until the UN gave West Jerusalem to the Zionists for a homeland in 1948 after the end of WWII. THE POINT HERE IS THAT THE JEWS CLAIM GOD GAVE THEM ISRAEL FOREVER BUT THE REALITY ON THE GROUND IS THAT GOD TOOK ISRAEL FROM THE JEWS AFTER THEY CRUCIFIED CHRIST AND 600 YEARS LATER GAVE ISRAEL TO THE MUSLIMS AND THEIR PATRIARCH MUHAMMED THE PROGENY OF ABRAHAM'S FIRST BORN ISMAEL. I BELIEVE THAT ANY CHRISTIAN WHO ARGUES WITH THIS REALITY IS IN ESSENCE, WITH GREAT ARROGANCE, JUDGING GOD AND HIS INTENTIONS. GOD REBUKED JOB WHEN JOB ASKED GOD WHY THE RIGHTEOUS SUFFER AND THE WICKED PROSPER. GOD ASKED JOB, WHO JOB WAS TO QUESTION GOD. WHO ARE CHRISTIANS OR JEWS OR MUSLIMS TO QUESTION WHAT GOD IS DOING ON EARTH. Who is so arrogant to write THE BOOK OF REVELATION about God's plan when Jesus himself said he did not know the time of the end times. THE BOOK OF REVELATION IS FAKE AND FALSE AND CONTRARY TO THE TEACHING OF JESUS. It was probably written by John the Elder not John the Apostle 70+ years after the crucifixion of Jesus per the Catholic Bible commentary.
5) There was no war for Jerusalem. There were the acts of Zionist terrorists. The UN arbitrarily carved Israel out of the land that had been the Muslims since 636. The Zionist curse the UN but it was the UN who create Israel. WHAT IS THAT ALL ABOUT?
6) No Zionist prophet of God has declared Jerusalem was to be returned to the Zionists. It was a secular act of the UN. There has been no prophet among the Zionist for 2500 years. This is another sign of God's abandonment if not displeasure with the Zionists. This is another reason Christians need to be cautious about promoting Zionists. Ever since the UN established Israel there has been war in the Middle East. That seems to me to indicate that the UN is not in sync with Gods plan. If God had blessed the new Israel I would think that any war over the UN's actions would have been short lived and there would be peace in the Middle East for the last 70 years.
7) Daniel who speaks a lot about end times, is not considered a prophet of the Zionists because he was a gentile.
8) When the Zionist rejected Christ and crucified him, the Jews were no longer God's chosen people. 30 years later Solomon's Temple was destroyed and the Jews disbursed. The title of God's Chosen People shifted to the Christians. The Christians believe that only Christians are part of God's plan for the future. Salvation only comes through Christianity. You have to consider that God expected the Christians to take possession of Israel and when they didn't he established Islam through Muhammed, the progeny of Abraham's first born Ismael, and gave the Muslims possession. This is beyond prophesy. THIS IS WHAT ACTUALLY HAPPENED. Only the reason for God giving Israel and Jerusalem to the Muslims are debatable. The facts are not. The facts indicate that God has abandoned the Zionists in favor of the Christians and the Muslims in possession of Israel.
9) Jews do not believe in Jesus as the Messiah. The Jews are still waiting on the same Messiah that they were expecting 2000 years ago. Zionist reject Jesus and Christianity and are just using Evangelicals to gain greater access to Jerusalem.
10) The Muslims have allowed Christians access to the holy sites in Jerusalem. The Zionists have restricted the Christians who live in Israel. The Zionist have declared Israel a nation of Jews for the Jews meaning an ongoing intentional purging of Muslims and Christians from Jerusalem. It is the basis of the Jewish Apartheid state when Palestinians are second class citizens. Isreal is not a democracy based on the American model.
11) God has given Jerusalem to the Muslims and the UN gave the old city of Jerusalem to the Muslims (Palestinians) which is located in East Jerusalem. The old city of Jerusalem is the location of the Temple Mount upon which the two Temples of Solomon were built. And that is today's reality.
12) The holiest part of Jerusalem is the Temple Mount which is controlled by the Muslims and on top there exists the Dome of the Rock and the Al Aqsa Mosque. The Jews have no structure on the Temple Mount and Jews are allowed limited access but not allowed to pray there.
13) The Dome of the Rock is where Abraham went to sacrifice his son Isaac on God's command and where Mohammed ascended into heaven per the Koran.
14) To be whole the Zionists have to possess the Temple Mount and build the 3rd Temple of Solomon. The Temple Mount is the Jewel of Zionism and the nation of Israel. But to do so the Zionists would have to demolish the Al Aqsa Mosque and the Dome of the Rock. There is a question as to exact the location of Solomon's Temples. That will remain a mystery because the Muslims are not going to allow archaeological excavations of the Temple Mount.
SO HERE IS THE REALITY.
The Chosen People of Jesus are the Christians. The Zionist are rejected. The center of Western Christianity is Rome and Eastern Christianity is Constantinople. And the greatest Christian civilization to date is the United States of America. Why? It is very simple, only in the United States of America do all religions, all races, all nationalities, all genders live in peace. Within the borders of America there is undeniable proof that the world can exist in a much greater level of peace than presently exists. Christianity is grounded in love. America is grounded in peace and justice and equality. AMERICA IS THE NEW JERUSALEM. AMERICA IS THE HOPE OF THE WORLD. AMERICA HAS WORKED HARD AND MADE GREAT SACRIFICES TO NOT BRING THE OLD WORLD DYSFUNCTIONS INTO AMERICA. There was a devastating Civil War over slavery. America was founded on religious Freedom.
NOW WE HAVE A LIAR, A FORNICATOR, A FALSE CHRISTIAN, A WORSHIPER OF MONEY, A RACIST, AN ISOLATIONIST, A MORON, AN INSULTOR OF ANYONE AND EVERYONE ON THE PLANET, A RESPECTOR OF NO MAN, MUCH LESS WOMEN, A DENIER OF HEALTH CARE FOR THE POOR AND CHILDREN, AN EGO MANIAC AND WORST OF ALL A DIVISIVE DECONSTRUCTOR OF EVERY THING THAT MAKES AMERICA GREAT.
THE LIGHT OF AMERICA IS BEING DIMMED BY THE WORST EXCUSE FOR A PRESIDENT THAT AMERICA COULD HAVE ELECTED. A DARK LORD TO LEAD AMERICA AND THE WORLD IN TROUBLED TIMES.
AMERICA THE LIGHT OF THE WORLD IS BEING IRREPARABLY HARMED BY THE DARK LORD DONALD TRUMP AND HIS TRUMP CANCER.
THE EVANGELICALS THROUGH THEIR FALSE BELIEF IN THE FAKE AND FALSE BOOK OF REVELATION AND THE FALSE PROPHETS WHO PROMOTE the dark future of the world are SUPPORTING THE DARKNESS OF DONALD TRUMP.
THINK ABOUT IT. GET RID OF THE BOOK OF REVELATION AND ITS DARK FUTURE AND EVERYTHING CHANGES. The first thing that changes is the negative mindset of Born Again Evangelical Christians that there is no point in worrying about climate change, the greed in Washington, the Muslims or the Jews who will all go to hell with the rest of the non Christian world, the racism of Donald Trump, the lies of Donald Trump, the sexual abuse of Donald Trump, because they believe that any minute Jesus is going to show up with an Army of Angels and make everything right for Christians and wipe clean the rest of the world human society which is exactly what God in Genesis said he would never do again.
Get rid of the BOOK OF REVELATION and Born again Evangelicals have to focus on fixing the obvious problems in the world human society. To GET REAL if you will. This is the 21st century not the first century. The Evangelicals need to wake up and understand America is the New Jerusalem and the only semblance of the Book of Revelation was WWII. THE APOCALYPSE IS BEHIND US NOT BEFORE US.
Jesus said, "Ask and receive, seek and find, knock and enter... if you have faith the size of a mustard seed you can move mountains, if you believe in me you can do the works I do and greater works can you do." Friends this means we are writing our own script for the future and the Evangelicals are promoting a very dark and negative script by focusing on the Book of Revelation and its doom and gloom. It is time to wake up. Let those who have eyes see and those who have ears hear.
DONALD TRUMP MUST GO. He is presently attacking the FBI. He is determined to destroy the foundation of America. If you deny this you are blind and if you do nothing about it, the great experiment of American Democracy is going to be trashed and there will be no hope for the world. What will come is another Dark Age for the world human society.
The future of the world is all inclusive democracy, not exclusionary TRUMP elitism. How can we increase the level of peace in the world human society if we do not include EVERYONE in our vision of peace? The answer is we cannot. The path to peace and WorldPeace (one word not two because WorldPeace is one thing not TWO.) is inclusion as America has included all races, religions, nationalities and genders within its borders. Now the American vision has to be applied to the world and America must stop preying upon lesser nations and promoting the elitism of the 1% who own the majority of the world's assets. THE TRUMPISM CANCER IS DESTROYING AMERICA. MAKE AMERICA GREAT AGAIN is the poison pill for America and the world. It is the double speak of a highly dysfunctional and dark President.
I AM A SPIRITUAL CHRISTIAN. We are going to have a rebirth of Christianity, have no doubt about that. The transition has already begun, but not the scenario written in the Fake and False Book of Revelation.
If I am a minority of one, the truth is still the truth.
Dr John WorldPeace JD 171227
http://johnworldpeace.com
http://impeachpresidenttrumpusa.com
http://drjohnworldpeacejdforpresidentusa2020.com
Taking Credit for U.N. Budget Cut, Trump's Envoy Hints at More to Come
Ambassador Nikki R. Haley coupled her applause for a $285 million cut in the 2018-2019 budget with a suggestion that she would seek further reductions.
NYTIMES.COM
A PRO ZIONIST ARTICLE
The problem with the following article is that there is no mention of the Palestinian Refugees and their right under international law to return to their homes. Most of which have been taken over by the Zionists who are against the right of return. In a word, the article mentions secondary collateral issues to the PRIMARY refugee problem and the right of return.
Google: "Who are the Palestinian refugees?
Nearly one-third of the registered Palestine refugees, more than 1.5 million individuals, live in 58 recognized Palestine refugee camps in Jordan, Lebanon, the Syrian Arab Republic, the Gaza Strip and the West Bank, including East Jerusalem."
RIGHT OF RETURN TO OCCUPIED TERRITORIES: A group of one hundred prominent Palestinians from around the world issued a Mar. 15, 2000 declaration titled "Affirmation of Palestinian Right of Return" in Al-Ahram (Egypt):
"The right of the Palestinian refugees and the uprooted to return to their homes is a fundamental right under the Universal Declaration of Human Rights, the International Covenant on Civil and Political Rights, the International Convention on the Elimination of All Forms of Racial Discrimination, the European, the American and the African Conventions on Human Rights; The right of the Palestinian refugees and the uprooted to return to their homes is an inalienable right and has been affirmed by the UN Resolution 194 over 110 times since 1948; The Right of Return is derived from the sanctity of private ownership, which cannot be extinguished by new sovereignty or occupation and does not have a statute of limitation; it is according to this principle that the European Jews claimed successfully the restitution of their lost property in World War II, without the benefit of a single UN resolution; The Right of Return is essentially an individual right which cannot be delegated, diminished, reduced or forfeited by any representation on behalf of the Palestinians in any agreement or treaty; The Right of Return is not substituted or affected in any way by the establishment of a Palestinian state in any form...
We absolutely do not accept or recognise any outcome of negotiations which may lead to an agreement that forfeits any part of the right of return of the refugees and the uprooted to their homes from where they were expelled in 1948, or their due compensation, and we do not accept compensation as a substitute for return; We demand due reparations for the psychological suffering, the material losses and damages and war crimes which the refugees endured for 51 years, in accordance with international law and legal precedents."
Dr John WorldPeace JD 171226
http://johnworldpeace.com
Ten Basic Facts about the Israeli-Palestinian Conflict
In all the discussion about this decades-long conflict and the quest for a solution, some basic facts are too often missing, neglected, downplayed, or sk...
HUFFINGTONPOST.COM
NOW THE TRUMP CANCER MOVES ON THE UNITED NATIONS.
MAKE AMERICA GREAT AGAIN - The Trump poison pill for America and the World.
After the horrors of WWI President Wilson pushed for the United States to join the League of Nations to prevent another world war. THE REPUBLICANS led the resistance against it and it failed. In 1939 the Germans invaded Poland and WWII began.
Now we have the TRUMP CANCER and his Republican Posse trying to deconstruct the United Nations, and of all things over Israel, the apartheid state, the keeper of the Gaza Concentration Camp for Palestinians, the nation who refuses to declare its nuclear arsenal while demanding that the Iranians be stopped from developing nuclear weapons, the international criminal country annexing Palestinian land it occupied in 1967 against international law.
THE NATION OF ZIONIST WHO LAUGH AT THE CHRISTIAN BELIEF IN JESUS AS MESSIAH and who are supported by the Christian Fundamental Evangelicals who want to bring on Armageddon. These confused Christians want to push God to bring on the End Times per the FALSE AND FAKE Book of Revelation expecting God to then destroy the Zionists who will not convert to Christianity. MY GOD what a convoluted ignorant mindset.
I doubt we are going to see another world war due to global economic integration but I can assure you that the disengagement of the United States from the United Nations will hasten the growth of China as the top player and influence in the World community of nations.
This is just another aspect of the TRUMP CANCER that is reducing America's status in the world.
Does TRUMP really think the world is going to be blackmailed by his ANARCHISM? The world of nations will make up the budget deficit and probably become more efficient. But the real movement with be the isolation of America which is just what THE TRUMP CANCER PROMOTES. It will not be the Americans leading the isolationism but the world leading the isolation of America.
DOMESTICALLY TRUMP IS TRYING TO POLITICIZE THE FBI. WHEN WILL AMERICANS REACH A TIPPING POINT AND REMOVE THE TRUMP CANCER THAT SEEMS DETERMINED TO INFECT THE ENTIRE AMERICAN POLITICAL BODY AND MOVE ON TO THE REST OF THE WORLD. AMERICA CANNOT DOMINATE THE WHOLE WORLD WHICH IS THE MOST ARROGANT NONSENSE OF THE TRUMP CANCER.
Dr John WorldPeace JD 171225
http://johnworldpeace.com
http://impeachpresidenttrumpusa.com
http://drjohnworldpeacejdforpresidentusa2020.com
Trump White House docks UN budget $285M after Jerusalem backlash
The Trump administration has worked out some "historic" belt-tightening at the United Nations, officials announced Sunday.
NYDAILYNEWS.COM
GRINNING JACKASS SYCOPHANTS EVERYONE. THE TWO WORSE LEADERS IN THE WORLD. ONE WHITE. ONE ASIAN. BOTH DANGEROUS. BOTH INSANE. BOTH PIED PIPERS. HOW CAN THIS BE? OUR SCIENCE AND OUR TECHNOLOGY HAVE FAR OUT DISTANCED OUR COLLECTIVE SANITY. THERE IS GOING TO BE AN AWAKENING BUT NOT THE ONE DESCRIBED IN THE BOOK OF REVELATION. OF THAT YOU CAN BE CERTAIN. WELCOME TO THE THIRD MILLENNIUM. STAY TUNED!!!!!!!
Dr John WorldPeace JD 171224
http://johnworldpeace.com
http://impeachpresidenttrumpusa.com
http://drjohnworldpeacejdforpresidentusa2020.com
PICTUREAKL;SDDDDDDDDDDDDDDDDDDDDDDDDDDDD
TRUMP'S STRANGLE HOLD ON EVANGELICALS
From the Opinion below:
"GOD chose Donald Trump to serve as the Republican presidential nominee. And he did it for one reason: To pave the way for the second coming of Jesus Christ...More than one-third of registered voters claim to be "evangelical" or "born again," according to a Pew Research Center poll. And some believe that Trump is the man of the hour. "If we could see into the heavenlies right now," Amedia explained in a recent interview about Trump. "We would see a skirmish going on that I believe is the beginnings of the preparation of the way of the coming of the Lord."This is the claim of Frank Amedia, who recently served as Trump's "liaison for Christian policy."Evangelicals have been refining their methods and predictions for more than a century. World War I and every war since has seemingly fulfilled Jesus's promise that in the last days there would be wars and rumors of wars. Benito Mussolini's 1930s resurrection of the Roman Empire appeared at the time to match predictions in the book of Daniel. Atomic bombs in the late 1940s provided the likely vehicle for completing the 2 Peter prophesy that the Earth will soon melt in an awful conflagration. Israel's 1967 capture of part of Jerusalem matched promises laid out in Ezekiel. In the 1990s, Saddam Hussein seemed to be rebuilding ancient Babylon in anticipation of the coming Antichrist...evangelicals differ from Catholics and Mormons. The latter groups do not have the same kind of vigorous, all-consuming apocalyptic tradition...Trump's ideas meld perfectly with evangelical apocalyptic expectations as the battle of Armageddon nears. He promises to seize power and to use it for them. He claims he would restore religious liberty to evangelicals. He would prohibit Muslims from entering the country. He would defend Israel at all costs. He would fight abortion by adding conservative justices to the U.S. Supreme Court. He would rebuild the American military. He would destroy the nation's enemies. He would keep individual citizens well-armed and prepared for battle.
This is a man, in other words, who is not just seeking to beat Clinton. He is seeking to wage a real-world battle against evangelicals' enemies and a spiritual battle against the Antichrist."
OK. HERE IS THE DEAL.
1) There will be no Second Coming. Why? Because Jesus left, as in died, and returned as in the resurrection and that was the Second Coming.
2) Jesus said no one knows about the end times but God. Yet, whoever wrote Revelation, probably John the Elder, not John the Apostle, arrogantly writes the Book of Revelation from the Isle of Patmos which was a place of oracles derived from taking the mushroom Amanita Muscaria, essentially rebuking Jesus and saying that he, John, does know the will of God. The words of Jesus, the red letter words, are superior to all other words. So the Book of Revelation should be torn out of the New Testament as an affront to God and Jesus.
3) Jesus said that he is with us always and where two are more are gathered then he is there. If that is true, and most Christians believe that, then what is all this talk of Jesus returning if he never left? Just more confusion propagated by False Prophets to make money and grow their power with those who cannot figure out the contradiction. Like John Hagge and Kenneth Copeland and their billion dollar Jesus shows. Oh yes and Joel Osteen. All from Texas by the way.
4) As above, there have been more than a few times when these False Prophets predicted that the end times were imminent and were wrong. Not to mention Y2K. Revelation is Fake Prophecy as it all prophecy. And quite frankly if WWII was not Armageddon, then there will never be an Armageddon.
5) Now the problem is that the Fundamental Evangelist want to hand over Jerusalem to the Zionist to bring on the Rapture, Armageddon and such so they can all go to heaven and then the Zionist can be sent to hell if they are not born again. So use the Zionist and then send them all to Hell. Makes sense right. In other words they are forcing God to use a liar and a fornicator, greedy arrogant jerk and Fake Christian to do his will. NOT. God uses flawed righteous men to do his work not fully corrupt ego maniacs who go to church as in Never.
6) Bottom line to this wrong headed thinking is what I hear all the time that only Jesus can bring WorldPeace so no point in worrying about the environment, corrupt presidents, subordinating women, not loving one another, refusing to give out birth control, refusing to adopt or support via welfare these unwanted babies, deny 13 million American health care and so on.
7) Now you see why Trump was elected and is taking America down. He has the support of people who cannot make sense of what Jesus said by actually reading the Bible.So they enable him to tear down America at every chance he gets.
If we cut the legs out from these mis guided and wrong thinking, or not thinking, Evangelicals, then Trump could not get elected dog catcher much less continue as president of the USA.
If I am a minority of one, the truth is still the truth.
Dr John WorldPeace JD 171222
http://johnworldpeace.com
http://impeachpresidenttrumpusa.com
http://drjohnworldpeacejdforpresidentusa2020.com
Donald Trump, the herald of evangelicals' end times
Evangelicals see Donald Trump differently. They are ready for an unapologetic strongman to help them do end-times battle.
SEATTLETIMES.COM
TRUMP TALKS DOWN TO THE HEADS OF NATIONS OVER JERUSALEM
The arrogance of Donald Trump is without limits. He talks to other heads of state like America is unchallenged in world affairs. LIke they are just a bunch of men and women he has to tolerate. As if Russia and China are not ready to jump in when ever and where ever Trump abandons America's allies.
And Nikki Haley is a joke. Just another wooden headed Trump dummy.
The world is getting the message from Trump. They are preparing to shut him down over Israel. They know a fight is coming and they have notice now that Trump is Netanyahu's boy just like he is Putin boy. Contingency plans are being prepared to stop Trump.
Israel is an apartheid state. No doubt. It is not the extreme that was South Africa but it is an apartheid state moving toward a Iranian type theocracy. Just like the Gaza concentration camp for Palestinians is not like the Nazi death camps. But it is no doubt a concentration camp. But I must say that the UN has to take ownership of the Zionist concentration camp in Gaza.
Consider that you have to compare 50 years of Israel's concentration camps for Palestinians to just 6 years of Nazi concentration camps for Jews. I don't know if 50 years with no gas chambers in Gaza is equal to 6 years with gas chambers under the Nazis. 50 years is a long time. A really long time and there is no end in site.
And America has protected Israel's bad behavior towards the Palestinians. There is nothing close to American Democracy in Israel. America's protection of the Zionist of Israel is unAmerican and destroys America's credibility in the world.
One thing for sure, the Palestinians will never trust America to negotiate any part of a peace with the Zionists. Trump definitely slammed shut that door.
The Netanyahu Zionist tail is wagging the Trump American dog.
All I can say is that there is a good chance that Trump's arrogance is going to bring this Israeli/Palestinian injustice to an end. He has turned his back on the Palestinians and the nations of the world. Now the world can devise a plan outside the UN to end the Zionist occupation of Palestine. Boycotts and nation by nations sanctions are in Israel's future.
The Zionist will never have an embassy in the old city of Jerusalem, they will never build a 3rd Solomon's temple on the Dome of the Rock.
This legal right of America, Russia, France, China, Britain having vetoes of any action of the United Nations must come to and end. Something simple like it takes two vetoes to stop a UN resolution, that would be a step in the right direction.
Bottom line is that Trump continues his daily deconstructing of America as a world leader. His disrespect for every head of every state is leading America nowhere but down. No way this can go on another 37 months. No way.
Dr John WorldPeace JD 171222
http://johnworldpeace.com
http://impeachpresidenttrumpusa.com
http://drjohnworldpeacejdforpresidentusa2020.com
Defying Trump, U.N. General Assembly Condemns U.S. Decree on Jerusalem
The vote amounted to a collective act of defiance toward the Trump administration at the United Nations, the world's biggest diplomatic stage.
NYTIMES.COM
NOW THE REPUBLICANS ARE FLOATING A CONSPIRACY THEORY THAT THE FBI IS CORRUPT AND ANTI-TRUMP
Friends there must be something really big that Trump is hiding, probably centered around Putin, for the Republicans to actually say out loud a conspiracy theory that the FBI is corrupt. Think about it. They are going to try to destroy the credibility of the FBI if not go on an Anti-Trump witch hunt in the FBI for the purpose of creating Nazi chaos at the core of American Democracy.
This for me is over the top. The repercussions of this kind of attack could in the worst case scenario topple the American Democracy. Seriously. Think about it.
This is absolutely and undeniably a chapter out of the playbook of Adolph Hitler.
No one can deny that Trump has waged a relentless battle against the press. Same same Adolph Hitler. Remember friends Hitler was initially elected before he destabilized the German government and steered it toward fascism and DOOM.
The Republicans' screwing of Americans with their vicious tax reform attacks on the 94% of Americans in the bottom of the American Economic pyramid of wealth has made them euphoric on their power, ignoring what has happened in Virginia and Alabama.
They have 11 months to turn around the Battleship Democratic and it pro-women agenda that is about to forever end their treachery in the mid-term elections in 11 months.
This kind of attack from the Republican House and Senate and radical right wing press will embolden Trump to fire Mueller and create more chaos.
There are no checks and balances against a rogue House and Senate allied with an insane President drunk on his own ego and ready to create whatever chaos is necessary to remain in power as he tries to become dictator. The courts are already skewed toward Republican conservatism. We are looking at all three branches of American Democracy locked in a Nazi goose-step to chaos and oblivion in America.
A crazy president is one thing. A rogue House and Senate supporting him along with a Republican packed judicial system is a whole different dystopian nightmare. It is an all out war on America's Democracy. It has no precedent. A government of traitors.
What is going on here is something so far beyond Putin's dream of a little disruption of American Democracy to a puppeteer's inconceivable dream of a potential scenario of collapse of American Democracy. Trump is facing down the world over climate change and Jerusalem. Moves supported by the Right Wing Republicans and their radical Christian Fundamentalist base.
We are in uncharted waters.
MAKE AMERICA GREAT AGAIN - the Trump poison pill for America and the world.
WAKE UP AMERICA. WAKE UP NOW.
Dr John WorldPeace JD 171220
http://johnworldpeace.com
http://impeachpresidenttrumpusa.com
http://drjohnworldpeacejdforpresidentusa2020.com
Rep. Jim Jordan says the FBI plotted to keep Donald Trump from becoming president
"Everything points to the fact hat there was an orchestrated plan to try to prevent Donald Trump from being the next president of the United States," Jordan told Fox…
CLEVELAND.COM
NOW THE REPUBLICANS ARE FLOATING A CONSPIRACY THEORY THAT THE FBI IS CORRUPT AND ANTI-TRUMP
Friends there must be something really big that Trump is hiding, probably centered around Putin, for the Republicans to actually say out loud a conspiracy theory that the FBI is corrupt. Think about it. They are going to try to destroy the credibility of the FBI if not go on an Anti-Trump witch hunt in the FBI for the purpose of creating Nazi chaos at the core of American Democracy.
This for me is over the top. The repercussions of this kind of attack could in the worst case scenario topple the American Democracy. Seriously. Think about it.
This is absolutely and undeniably a chapter out of the playbook of Adolph Hitler.
No one can deny that Trump has waged a relentless battle against the press. Same same Adolph Hitler. Remember friends Hitler was initially elected before he destabilized the German government and steered it toward fascism and DOOM.
The Republicans' screwing of Americans with their vicious tax reform attacks on the 94% of Americans in the bottom of the American Economic pyramid of wealth has made them euphoric on their power, ignoring what has happened in Virginia and Alabama.
They have 11 months to turn around the Battleship Democratic and it pro-women agenda that is about to forever end their treachery in the mid-term elections in 11 months.
This kind of attack from the Republican House and Senate and radical right wing press will embolden Trump to fire Mueller and create more chaos.
There are no checks and balances against a rogue House and Senate allied with an insane President drunk on his own ego and ready to create whatever chaos is necessary to remain in power as he tries to become dictator. The courts are already skewed toward Republican conservatism. We are looking at all three branches of American Democracy locked in a Nazi goose-step to chaos and oblivion in America.
A crazy president is one thing. A rogue House and Senate supporting him along with a Republican packed judicial system is a whole different dystopian nightmare. It is an all out war on America's Democracy. It has no precedent. A government of traitors.
What is going on here is something so far beyond Putin's dream of a little disruption of American Democracy to a puppeteer's inconceivable dream of a potential scenario of collapse of American Democracy. Trump is facing down the world over climate change and Jerusalem. Moves supported by the Right Wing Republicans and their radical Christian Fundamentalist base.
We are in uncharted waters.
MAKE AMERICA GREAT AGAIN - the Trump poison pill for America and the world.
WAKE UP AMERICA. WAKE UP NOW.
Dr John WorldPeace JD 171220
http://johnworldpeace.com
http://impeachpresidenttrumpusa.com
http://drjohnworldpeacejdforpresidentusa2020.com
Rep. Jim Jordan says the FBI plotted to keep Donald Trump from becoming president
"Everything points to the fact hat there was an orchestrated plan to try to prevent Donald Trump from being the next president of the United States," Jordan told Fox…
CLEVELAND.COM
HELLO FOLKS DICK TRUMP AND HIS REPUBLICANS ARE ABOUT TO MAKE AMERICA GREAT AGAIN FOR THE RICH AND BIG CORPORATIONS.
You know my big question is will the Republican Trump propaganda machine sell the mostly ignorant American voters that they are better off with these new Tax Cuts so they stay in office in 2018?
Maybe. Stay Tuned.
You see folks this is why Trump is gutting the Department of Education. All politicians talk about increasing education until they are in office. Then they work against education. Their jobs depend on an ignorant easily manipulated voting citizenry. This is one of those unspoken conspiracy theories that Trump does not talk about.
MAKE AMERICA GREAT AGAIN - the TRUMP poison pill for America and the world.
Dr John WorldPeace JD 171219
http://johnworldpeace.com
http://impeachpresidenttrumpusa.com
http://drjohnworldpeacejdforpresidentusa2020.com
Analysis | The Finance 202: The GOP tax plan's lopsided numbers
(Hint: 10 percent of the cuts will go directly to the middle-class)
WASHINGTONPOST.COM
THE TRUMP, 666 KUSHNER, SENATOR HATCH, SENATOR CORKER REAL ESTATE TAX BREAK
FIRST FOLKS, I AM NOT JUST A NEW AGE WORLDPEACE AIR HEAD. i HAVE DEGREES IN ACCOUNTING AND LAW AND 3 PLUS DECADES OF SELF EMPLOYMENT EXPERIENCE IN THOSE FIELDS.
SO HERE IS THE DEAL.
1) ALL THE FOUR ABOVE, Trump, 666 Kushner, Hatch and Corker are in the real estate business directly or indirectly. They all benefit from the manipulation of the Tax Code with regards to real estate investments.
2) HOW DOES IT WORK. You give tax breaks to Real Estate investors by writing the tax code where you push businesses, real estate businesses and businesses with big real estate investments, in a direction where they hire lawyers to reconfigure the way they classify their real estate to allow them to take advantage of a bigger real estate tax loophole than they presently have..
The net effect is a huge, in this case, tax benefit to those with lots of money in real estate. And especially if like Trump and 666 Kushner, real estate is your primary business.
Now with Trump not being divested from his assets, he is getting ready to sign a tax bill that is going to put mega-millions of tax credits into his pockets. Basically this is called self dealing.
BOTTOM LINE, Trump and 666 Kushner have money transferred from the average citizen, by way of taxes paid by these people to make up for the tax breaks given to Trump and 666 Kushner. That is how transference of wealth takes place. This is how the rich get richer and the poor get poorer.
So there it is. MAKE AMERICA GREAT AGAIN - the Trump poison pill for America and the world.
WELCOME TO TRUMP WORLD where he has sex with Americans every day. Remember during the debates where he told Hillary he does not pay that much taxes because he is smart (and knows how to work the tax code). Now he is writing the tax code.
THIS IS JUST ONE CORPORATE, WEALTHY AMERICAN, POLITICIAN tax fix. And right now there are only two obstacles in Trump's way to MO MONEY MO MONEY MO MONEY: Mueller and the women's sexual abuse revolution.
Dr John WorldPeace JD 171219
http://johnworldpeace.com
http://impeachpresidenttrumpusa.com
http://drjohnworldpeacejdforpresidentusa2020.com
Hatch 'fesses up to special break in GOP tax bill that set off alarms
Senator Orrin Hatch, R-Utah, said in a letter on Monday he added a late provision to the GOP tax bill that could extend significant tax breaks to real estate companies, among…
NBCNEWS.COM
DONALD TRUMP'S IDIOT PRESIDENT POLICIES shared John WorldPeace
TWO THINGS: 1) Trump's isolationist anti globalism economic policies have driven the Philippines, Europe and South Korea into the Chinese sphere of influence. 2) Have you noticed that the only world leader that Trump has not attacked is Russia's Putin? In fact, he is the only person that Trump consistently talks positive about. I think it is becoming more and more obvious that Putin has some serious dirt on Trump.
As each day goes by we see more and more how Trump operates. He cannot hide what he is doing. He is deconstructing America's tried and true global alliances. He is taking down as many of the laws that have been put in place to keep corporate predatory acts under control. He could care less about pain and suffering of the poor with regards to health insurance. He sucks up to the Fundamental Christians and their hateful mindset of no free contraceptive, no adoption or government entitlements for these unwanted children thus increasing the misery in the lower end of he American social pyramid. He lies about everything and then lies about his lies.
He has seriously, knowingly, intentionally and maliciously reduced America's status in the world. He has gone against the entire world on climate change and recognizing Jerusalem as the capital of Israel.
Not only is he an idiot he is an anti-American traitor to every thing America stands for. America in truth has always taken the cream of the world human society to advance America in every way but Trump sees all non Americans as criminals and terrorists.
He has ongoing contempt for people of color especially Blacks, Hispanics and Muslims; he is a racist of the highest order. He sees woman as sexual objects to be abused and publicly humiliated. He believes he and his family are above the law.
He is transferring money, assets and power to the economically top 3% of American society.
If the the 2018 mid term elections do not flip the House and Senate from Republican to Democratic so they can put Trump on a leash if not impeach him, then by the time he is out of office in 2020 it will take decades for America to climb back to the top of he global national pyramid if that will even be possible. America's future is technology but the number of technology jobs will never replace the manufacturing jobs that are spreading out all over the world. America can export food until global warming scorches the bread belt of America and Mexico and/or Canada inherit it. We wont even be able to feed ourselves in the next 25 years.
Dr John WorldPeace JD 171218
http://johnworldpeace.com
http://impeachpresidenttrumpusa.com
National security strategy plan paints China, Russia as U.S. competitors
In a speech Monday, Trump will present plan that follows his "America First views.
WASHINGTONPOST.COM
DONALD TRUMP'S IDIOT PRESIDENT POLICIES
TWO THINGS: 1) Trump's isolationist anti globalism economic policies have driven the Philippines, Europe and South Korea into the Chinese sphere of influence. 2) Have you noticed that the only world leader that Trump has not attacked is Russia's Putin? In fact, he is the only person that Trump consistently talks positive about. I think it is becoming more and more obvious that Putin has some serious dirt on Trump.
As each day goes by we see more and more how Trump operates. He cannot hide what he is doing. He is deconstructing America's tried and true global alliances. He is taking down as many of the laws that have been put in place to keep corporate predatory acts under control. He could care less about pain and suffering of the poor with regards to health insurance. He sucks up to the Fundamental Christians and their hateful mindset of no free contraceptive, no adoption or government entitlements for these unwanted children thus increasing the misery in the lower end of he American social pyramid. He lies about everything and then lies about his lies.
He has seriously, knowingly, intentionally and maliciously reduced America's status in the world. He has gone against the entire world on climate change and recognizing Jerusalem as the capital of Israel.
Not only is he an idiot he is an anti-American traitor to every thing America stands for. America in truth has always taken the cream of the world human society to advance America in every way but Trump sees all non Americans as criminals and terrorists.
He has ongoing contempt for people of color especially Blacks, Hispanics and Muslims; he is a racist of the highest order. He sees woman as sexual objects to be abused and publicly humiliated. He believes he and his family are above the law.
He is transferring money, assets and power to the economically top 3% of American society.
If the the 2018 mid term elections do not flip the House and Senate from Republican to Democratic so they can put Trump on a leash if not impeach him, then by the time he is out of office in 2020 it will take decades for America to climb back to the top of he global national pyramid if that will even be possible. America's future is technology but the number of technology jobs will never replace the manufacturing jobs that are spreading out all over the world. America can export food until global warming scorches the bread belt of America and Mexico and/or Canada inherit it. We wont even be able to feed ourselves in the next 25 years.
Dr John WorldPeace JD 171218
http://johnworldpeace.com
http://impeachpresidenttrumpusa.com
National security strategy plan paints China, Russia as U.S. competitors
In a speech Monday, Trump will present plan that follows his "America First views.
WASHINGTONPOST.COM
AMERICA HELD HOSTAGE BY AN ARROGANT PRESIDENT DETERMINED TO BE A THREAT TO WORLDPEACE AND PROPONENT OF A DEGENERATING PLANET ECOLOGY.
Donald Trump is really the worst possible President America could have elected. Think about this rotten individual backing down 8 billion people in the world who are trying to find peace in the Middle East without a war.
How is it possible that this stupid individual is allowed to create this much chaos in the world. World War Two is long gone and the 5 nations who can hold back the United Nations in its quest for increasing the peace in the world through a veto, need to be stripped of that right. The United Nations must become more democratic and just and sane and fair if the world is going to move significantly forward to an increased peace.
The United States is undeniably in the wrong about climate change and supporting the fascist Zionist regime that maintains a concentration camp for Palestinians in Gaza and denies Palestinians in Israel equality. Israel is an APARTHEID STATE. The absolute power to veto held by the USA, France, Britain, Russia and China is anti democratic and does not promote peace in the world and will be overturned in time.
The best way, maybe the only way, at this point to solve this problem is for the majority of the world's nations to write a new democratic charter and then withdraw from the current UN and set up replacement World of Nations. The Embassy should be moved to Switzerland. The world of nations has grown in power where it can challenge the United States.
The Zionists in Israel and the Fundamental Christians in the United States are the hardcore supporters of injustice in the United Nations. You could say that Israel is the tail that wags the US dog.
Each day that Trump is in office America degenerates. Each day that Trump is in office reduces my desire to visit a foreign country carrying Trump's undeniable stink and corruption through my passport.
This veto by the United States today is proof that the United States is a corrupter and antagonist of Peace in the world.
I look at the assembly of nations, all the nations of the world, and all their representatives held in check by a corrupt president of the United States. It really blows my mind that one man can hold 8 billions human beings in check.
My life is devoted to increasing the peace in the world and I am the nemesis of Donald Trump. I NON-VIOLENTLY will do all I can to end his presidency. He has no redeeming value. I see him as rotten as Adolph Hitler without the power but working on it. I see the Republican Party as anti-American, anti-democratic. I see the Zionists as Nazis without the power to exterminate Palestinians but with an intense desire to exterminate not only Palestinians, but all Muslims, and Christians and all other religionists who challenge their claim to be GOD'S CHOSEN PEOPLE and create any atrocity in the name of their religion they want, the same as right wing Christians who have no problem with genocide committed by Americans against the Native Americans and who perpetuated the evils of slavery for centuries.
If I am a minority of one, the truth is still the truth. America and Israel need a wake up call by the people of the world through their nations to carve the arrogance and anti peace cancer out of American Democracy and the world in general.
Have no doubt, that I am fully aware that there are many troubles and problems and injustices and enemies of peace in the world. ALL as in ALL nations have their dark sideswhich they try to foist on the world. At this time, the Palestinians problem is on the table. And I am speaking to that problem.
Time has come for a great change. The world human society has advanced in many ways but the predatory nature of human beings has remained the same. It is time for the world to transcend to its higher nature.
Dr John WorldPeace JD 171218
http://johnworldpeace.com
http://impeachdonaldtrumpusa.com
http://drjohnworldpeacejdforpresidentusa2020.com
U.S. Vetoes U.N. Resolution Condemning Move on Jerusalem
As the United States used its veto to block the Security Council resolution, the 14-to-1 vote underscored the Trump's isolation on a central issue in the…
NYTIMES.COM
IVANKA TRUMP AND 666 JARED KUSHNER
Donald Trump has spawned liars in his own image. These Trumps all think they are above the law. Especially 666 Jared Kushner. I guess we will have to wait until 2018 when the Democrats are back in before we can flush these two out of the White House.
Dr John WorldPeace JD 171218
Http://johnworldpeace.com
http://impeachpresidenttrumpusa.com
http://drjohnworldpeacejdforpresidentusa.com
Ivanka Trump, Jared Kushner sued over info on financial disclosure forms
Ivanka Trump and Jared Kushner are being sued for allegedly omitting information from their public financial disclosure forms,
THEHILL.COM
NUCLEAR WAR IN KOREA?
Friends Korea is a backward country with some rockets and nuclear warheads. This seems to be the reality.
The only thing that is going to cause a war is Kim Jong Un firing an armed nuke at America and actually detonating it. I can't imagine Trump firing pre-emptive strikes. I think the military would not let that happen.
A nuclear war would be over in a couple of hours. No troops on the ground. Just a nuclear exchange between North Korea and the USA. Surely China will not fire nukes at the United States over Korea. I hear nothing from China about that.
And if China is not a part of the mix, then what?
I see nothing going on at the UN trying to mediate. I hear of no emergency meetings of the Security Council. Surely if North Korea was a serious problem we would have heard something along those lines.
South Korea and Japan and Beijing are going to have nuclear fallout mostly from an American retaliation I suppose.
The real problem, is the US accidentally nuking Beijing. Is that possible? I would say yes. There has never been a full out nuclear war. Anything could happen. If Beijing was accidentally nuked by the US I think you could write off LA and San Francisco. You really think China is going to accept an apology from the US for nuking Beijing accidentally or otherwise?
See how insane this all sounds?
And after the news last week about secret UFO investigations, it may just well be that the aliens would step in and neutralized all the rockets as we have seen on those UFO videos on You Tube.
I personally live a mile up in the New Mexico high desert. Not that many people in New Mexico. So I personally can't get too concerned about my survival.
I am wondering if we are going to have to have a nuclear war to play out so that the horror of it will end any future considerations about nuclear war. If a nuclear war does take place, Trump will be the cause because he is an idiot president. But the UN will have to own the responsibility. Meaning the whole world will own it.
The only question is how many crispy critters will there be and how many glow in the dark people with there be before it ends.
My plan would be to let Kim Jong Un fire one nuke. America does nothing because it probably will not hit anything. Then I would convene the UN on the threat of a just and total retaliation such that North Korea no longer exists. I would say an hour would be time enough to have a meeting at the UN.
Dr John WorldPeace JD 171218
http://johnworldpeace.com
http://impeachpresidenttrumpusa.com
Chinese experts: War on Korean Peninsula may come sooner than later
Chinese regional experts have warned that an outbreak of war on the Korean Peninsula looks likelier than ever, according to Chosun Ilbo which cited a Chinese daily.
UPI.COM
DONALD TRUMP'S IDIOT PRESIDENT POLICIES
TWO THINGS: 1) Trump's isolationist anti globalism economic policies have driven the Philippines, Europe and South Korea into the Chinese sphere of influence. 2) Have you noticed that the only world leader that Trump has not attacked is Russia's Putin? In fact, he is the only person that Trump consistently talks positive about. I think it is becoming more and more obvious that Putin has some serious dirt on Trump.
As each day goes by we see more and more how Trump operates. He cannot hide what he is doing. He is deconstructing America's tried and true global alliances. He is taking down as many of the laws that have been put in place to keep corporate predatory acts under control. He could care less about pain and suffering of the poor with regards to health insurance. He sucks up to the Fundamental Christians and their hateful mindset of no free contraceptive, no adoption or government entitlements for these unwanted children thus increasing the misery in the lower end of he American social pyramid. He lies about everything and then lies about his lies. He has seriously, knowingly, intentionally and maliciously reduced America's status in the world. He has gone against the entire world on climate change and recognizing Jerusalem as the capital of Israel.
Not only is he an idiot he is an anti-American traitor to every thing America stands for. America in truth has always taken the cream of the world human society to advance America in every way but Trump sees all non Americans as criminals and terrorists.
He has ongoing contempt for people of color especially Blacks, Hispanics and Muslims; he is a racist of the highest order. He sees woman as sexual objects to be abused and publicly humiliated. He believes he and his family are above the law.
He is transferring money, assets and power to the economically top 3% of American society.
If the the 2018 mid term elections do not flip the House and Senate from Republican to Democratic so they can put Trump on a leash if not impeach him, then by the time he is out of office in 2020 it will take decades for America to climb back to the top of he global national pyramid if that will even be possible. America's future is technology but the number of technology jobs will never replace the manufacturing jobs that are spreading out all over the world. America can export food until global warming scorches the bread belt of America and Mexico and/or Canada inherit it. We wont even be able to feed ourselves in the next 25 years.
Dr John WorldPeace JD 171218
http://johnworldpeace.com
http://impeachpresidenttrumpusa.com
National security strategy plan paints China, Russia as U.S. competitors
In a speech Monday, Trump will present plan that follows his "America First views.
WASHINGTONPOST.COM
WHY TRUMP RECOGNIZED JERUSALEM AS THE CAPITAL OF ISRAEL
QUOTE FROM THE ARTICLE.
"While the news has been badly received among Christian communities in the Middle East, the move was in part a political gesture aimed at Christians: white evangelical voters, who backed Trump overwhelmingly in last year's presidential election. American evangelical Christians — who believe that the right of the Jews to Jerusalem is enshrined in the Bible and that their presence there will usher in Judgment Day — were a powerful lobbying force behind the decision."
DO YOU UNDERSTAND THIS? THE WHITE CHRISTIAN EVANGELICALS BELIEVE THAT WHEN THE JEWS POSSESS JERUSALEM THE END OF THE WORLD COMES. AND THEY WANT THAT TO HAPPEN SOON SO THEy BACK TRUMP GIVING JERUSALEM TO THE ZIONIST IN EXCHANGE FOR THEIR VOTES. Now folks this is not made up. This is true as to the beliefs of the Christian Evangelicals.
Well first off the End did not come on January 1, 2000. It did not come on December 21, 2012.
Now these White Evangelicals believe they can force God's plan as outlined in the False Book of Revelation by forcing God to use Donald Trump, the fornicator, liar, corrupter, Christian only as in votes to be acquired, if you can believe that, to bring about the end of the world and Judgment Day.
1) The end of the world Apocalypse, Rapture, Final Judgment and all that comes from the New Testament Book of Revelation. This is a False Book. Why? Jesus said no one knows about the End Times, not even Jesus. Only God knows. The Book of Revelation was not written by Jesus but by John The Elder, a disciple of John the Disciple, around the year 100. (John the Elder was exiled to the isle of Patmos by the Romans. Patmos was an island with a temple that gave revelations by administering the sacred mushroom, Amanita Muscaria. So good chance John the Elder had the help of the sacred mushroom in writing Revelation.) Jesus says no one knows about the End times but God, but in the Bible is the Book of Revelation that contradicts the specific red letter words of Jesus that no one knows about the End Times but God. You cannot believe the words of Jesus and the words of the Book of Revelation. The words of Jesus are superior to any other words by anyone recorded in the New Testament. PERIOD. Therefore the Book of Revelation is FAKE.
2) For the last 100 years and more so since Hal Lindsey's book the Late Great Planet Earth published in 1970, the Evangelical preachers have quietly conspired to push the end of the world Second Coming of Jesus for the purpose of bringing in money to their churches. One of the worst is John Hagge of San Antonio Texas. This is a greedy little fat man preying upon NAIVE CHRISTIANS. I did not say Stupid or Ignorant Christians. I said NAIVE and gullible. The same people who bought into the Trump LIE OF LIES - MAKE AMERICA GREAT AGAIN.
3) So here is a crazy reality that explains the tight bond between American Evangelical Christians and the Fascist Zionist regime of Ben Netanyahu of Israel. Netanyahu is a radical Zionist who absolutely believes the Jesus story is FAKE. Jews do not believe in Jesus. If they did, they would be Christians. And Guess What, all Evangelicals and other Christians believe that all Jews who do not convert to Christianity are going to hell. With regards to the Jews, they want to own all of Palestine and Jerusalem so they can declare themselves God's Chosen People from their ancient homeland, from which God drove them out in 70 CE, and again begin the blood ritual animal sacrifices to God. In a word, Netanyahu's dream is to establish a clone of the Iranian Theocracy in Israel.
This article is about discrimination of Christians in Jerusalem as well as Palestinians. Not something you hear a lot about. NOt something Evangelical Christians care about.
4) Jesus said "Lo I am with you always" & "where two or more are gathered in my name, I will be there." Now these are again red letter words of Jesus in the New Testament. If Jesus said this, then it is true. If it is true that Jesus never as he said, there is no need for a Second Coming.
5) So we have the Zionists kissing up to Christians while they think Christians are fools for believing in Jesus and the Christians waiting to give the Zionist Jerusalem so the world can come to an end and all the Jews not just the Zionist can be sent to hell.
Now this is what is really going on. This is why Trump is president. This is why Pence is Vice President. Trump sold the Vice Presidency to the Christian Evangelicals for their votes. Trump is a FAKE Christian among other negative things, but Pence is a radical Evangelical Christian very much like Roy Moore except Pence does not have a history of dating teenage girls.
6) The Evangelical Christians want chaos in the Middle East. They want the battle of Armageddon. They could careless about nuclear war in the Middle East because Jesus is going to wipe all non Christians from the earth and bring on eternal bliss after he cleansing the area of nuclear fallout.
7) This is the crazy reality of the Zionist and Christian Evangelicals who each think the other is doomed to hell by God but are working together to bring about their inheritance of Jerusalem. Both feel the other will be wiped out or marginalized. But for now the Zionist and Christian Evangelicals are thick as thieves. And Trump is their boy.
8) Lastly I am a follower of Jesus, in every sense but not a member of any Christian Church. I believe in God and Jesus and not the Church. I also believe there is going to be a world wide resurgence of Christianity but not along the lines of the Book of Revelation. Remember the Jews expected a warrior Jesus 2000 years ago. They got a man of peace. Now Evangelical Christians believe in a Book of Revelation Jesus. They are wrong just like the Jews 2000 years ago. THEREFORE GREAT CHANGE is upon us, a blind man can see that, but the play out will not be what is expected. That is what I believe.
Dr John WorldPeace JD 171214
http://johnworldpeace.com
http://impreachpresidenttrumpusa.com
Trump's move on Jerusalem thrilled evangelicals but enraged Mideast Christians
As Vice President Pence prepares to visit the region, the White House is facing an awkward backlash from Christians it pledged to protect.
WASHINGTONPOST.COM
OVER A YEAR AND A HALF AGO I SAID TRUMP WOULD LOSE EVERYTHING IF HE BECAME PRESIDENT.
There is so much that has gone on with Trump since he began his campaign that it is almost impossible to list all the significant events much less summarize it.
I believe Roy Moore's loss last night to Doug Jones following the Republican losses in Virginia a month ago will be seen as the end of beginning for Trump. His appeal is gone. To lead Hillary 28 points in the Alabama vote and to have Doug Jones beat Moore by four points within 13 months is truly incredible. All that political capital that Trump had, he aggressively squandered.
There are a lot of articles today about Trump but really not as many as you would expect on this day after the end of Roy Moore. No one knows what to say. The Trump Presidency has been psychotic for lack of a better word.
Without really focusing on any one thing or one act of Trump, I have a few thoughts. If you consider these thoughts I think you can make sense of just about everything that has happened over the last year that had Trump at the center.
If you think about what has happened with his disrespect for protocols, isolation policy, immigration policy, racism, turning on anyone who crosses him or disrespects him in anyway,name calling like some child, and then move on with lies without number, lies that have no basis in reality or fact and then enter the next day as if nothing that he did made any difference, you have to see he is out of touch with reality..
There is little continuity except his desire to deconstruct America, destroy everything he could and can, generally working to give more money to the rich and less to the poor, and want to end welfare, and support the hateful mindset of many of the Christian Fundamentalists, thumbing his nose at Europe, and denying climate change, still riding the Obama Birther issue, abandoning the far East to China, recognizing Jerusalem as the capital of Israel against the advice of everyone in the world, and on and on. Other than transferring money to the rich, nothing makes much sense. There is no global philosophy on anything. MAKE AMERICA GREAT WAS A NO PLAN PLAN. He never had any details about anything.
What I am getting at, is that I think Trump views everything as just reality TV. Nothing is real to him. Nothing has any real consequence. It is just TV. The entire world is just reality TV. It was reported that he watches 6-8 hours of TV a day.
I think his election was incredible to him and within a few days he felt he could do anything. His winning was unreal like reality TV is unreal.
So the bottom line is that Trump is just mentally unstable. He seems to some degree sane because in so many ways he is just operating on past experience of how to deal with decision making. He knows how to make decisions but he makes decisions now without any concern about the consequences. Again he is locked into reality TV. The writers can make him look good. The House and Senate will cover him. And he can see the results on TV the next day.
And when he has a sane moment, I think he believes that the US is too big to be seriously affected by anything he does.
He has less and less respect. He had no reaction really to the huge implications of the Roy Moore loss.
But the Republicans see the writing on the wall. They see the end of their party for decades if not forever after the 2018 midterms.
Trump has no power now. So the Republicans have nothing to be concerned about. He will not turn his base loose on them. And neither with the radical anarchist Steve Bannon. But he has no doubt turned the majority of Americans against him and the Republicans own a huge amount of that.
I think everyone believes that his approval ratings are going to continue to go down down down. Roy Moore was a mini Trump. He tried to play Trump and Alabama went Democratic.
The women are on a warpath. Daily now men in high places are falling. I really wonder how many will go down. How many will commit suicide. The rate at which long distinguished careers are being wiped out is increasing. As I said, women have the momentum now and they are not going to back off. Nicki Haley turned on Trump. Pelosi and Gillibrand are demanding an investigation. I said a week ago that I thought that Trump would go down over the women's wrath long before Mueller nailed Trump on things related to the election and the Russians.
I believe that Trump is going to demonstrate more and more crazy behavior. He will more and more become a reality TV actor and it will be impossible for the government to go forward. America will come closer and closer to shutting down with politicians trying to fix the daily chaos that Trump will create.
Lastly, I think the end will come fast. I do not think Trump will survive to his first anniversary. And if he does, I think everyone will know that he is finished. Everyone but Trump. I think there is a good chance that Trump will be in a psycho ward by the Spring where I think under sedation he will still believe he is the President.
Dr John WorldPeace JD 171213
http://johnworldpeace.com
THE ABORTION BELIEFS OF THE FUNDAMENTAL CHRISTIANS MUST BE AIRED AND SHOWN TO BE NONSENSICAL BY QUOTING THE WORDS OF JESUS TO GET BEYOND THEIR MINDLESS ATTACKS ON PLANNED PARENTHOOD
It is impossible to resolve the abortion issues without a discussion of religious beliefs. That is why this post has a religious foundation.
DONALD TRUMP NEEDS TO QUIT CATERING TO THE ANTI-ABORTION CHRISTIAN RADICALS FOR THE SAKE OF VOTES. HE HAS NO RELIGIOUS PHILOSOPHY EXCEPT MONEY IS GOD AND HE IS A SPIRITUAL MONEY KING.
I have three arguments related to the abortion issue. 1) Fundamental Christians refuse to distribute birth control, refuse to endorse abortion for unwanted pregnancies, refuse to make themselves available en mass to adopt the children they demand to be born and refuse to provide welfare for these unwanted children.
THIS IS THE REALITY, IT IS AN UNSUPPORTABLE NONSENSICAL POSITION PUT FORTH BY MINDLESS CHRISTIANS.
2) When asked about whose wife a woman would be in heaven when she had multiple husbands on earth, Jesus said, "Heavenly bodies are like angels" meaning no gender. Why? Because spiritual beings cannot pro-create new souls. Only God can create a soul.
3) The determination to procreate is one of the most powerful forces on the earth. If it was not so powerful, human beings would have gone extinct long ago. No amount of punishment is going to stop people from procreating and that is a good thing for survival of the human species. You cannot regulate procreation by any means. It is a biological force that defies logic and is oblivious to punishment when the energy is right between two people..
Now what does this mean. It means for any seriously studied religionist that souls have no beginning and no end as the Infinite God has no beginning or end. This is a great mystery to human beings who live in a reality where everything that manifests from the Infinite Oneness in time deconstructs back into the Infinite Oneness. Everything that is born, dies. Human Being cannot wrap their head around infinite immortality that verifies that the Infinite Oneness of which souls are a part has no beginning and will have no end.
Therefore, infinite immortal souls that incarnate into a finite mortal human body are released by the human body when it dies. So simply speaking, the human body is just a temporary vehicle for the immortal soul. Jesus clearly stated that John the Baptist was the incarnation of the Prophet Elijah. This verifies that souls incarnate into human bodies, the body dies, the soul exits the dead body and potentially reincarnates into another body. Fundamental Christians who claim to believe every word in the Bible as being true cannot sweep this teaching of Jesus under the carpet.
Further, in my opinion, as soon as conception occurs, the sperm fertilizes the egg, the soul attaches to the embryo. As the embryo develops, the soul prepares for its life on earth. The more the soul becomes integrated with the embryo the more its consciousness is restricted so that it can function in a limited human body.
If something happens and the fetus dies naturally or is aborted, the soul is released back into it heavenly reality. You can abort the embryo/fetus and by definition kill it, but you cannot kill the immortal soul that has incarnated within it.
I personally could not agree with aborting my child. I think abortion is to a large degree tragic and has its negative collateral affects for most women but it is not a burn in hell issue because the soul survives without any kind of permanent damage.
Here is the point, the human body is just a vehicle. It is like a car. When it is worn out, it is discarded and it in time disintegrates back into atoms and other sub atomic particles. Upon the death of its vehicle, the human body, the soul returns to the spiritual realm in a spiritual body that is capable of taking on any form it likes or no form at all.
Therefore, the aborted fetuses are not sacred, they are devoid of a soul, they are destined to completely deconstruct.
Further, these aborted fetuses have significant value in medical science for research that is focused on healing the human body and extending its life. It is total nonsense to destroy the fetuses that have a potential medical use. The logic is that in truth an aborted fetus has no more significance than an abandoned automobile. An automobile is a good example. It is essentially dead without a driver. The driver gets into the automobile and drives away. The driver gets out and the automobile dies. The same way a soul inhabits and in time disengages from a human body. When the automobile and human body cease to function beyond any repairs, they are discarded as useless.
By giving value to a fertilized human egg, to the embryo, to the fetus, the religious bureaucracies create power and control over human beings. Human beings are in awe of the process of birth and death and are subject to being negatively manipulated to their detriment on birth, life and death issues by religious bureaucracies.
This reality is so ingrained in the world human society that few human beings are willing to challenge their chosen religious bureaucracy.
Christians who are not willing to take on a fetus who is about to be aborted or provide government entitlements for it, have no right to force their brand of judgment on any other human being who aborts a child. Also, this issue allows men to manipulate and control women. It is not just a religious issue it is also a male dominance issue.
One last collateral issue, the law does not give any legal rights to a fetus. In order to have any legal rights, the fetus must be born. This reality makes the whole abortion issue a farce. If any society truly believed that all fetuses were sacred and citizens with full rights, there would be laws to protect them. The social legal reality does not parallel the religious elevation of fetus to that of a live born human being.
We need to give free contraceptives no questions asked which will cut off any potential abortion issues. If we are going to criminally penalize abortions then that legislation needs to have collateral welfare money attached to it. And if any citizen is not willing to adopt the fetus to be aborted, they need to stay out of the abortion conversation.
Fund Planned Parenthood and all clone institutions or put the government in charge of abortions.
Dr John WorldPeace JD 171209
http://johnworldpeace.com
http://impeachpresidenttrumpusa.com
Justice Dept. Investigating Fetal Tissue Transfers by Planned Parenthood and Others
In a letter to the Senate Judiciary Committee, the Justice Department requested documents indicating it is picking up the fetal tissue issue that Congress started…
NYTIMES.COM
STUPID DEMOCRATS TRYING TO PLAY A HIGHER GROUND GAME WITH REPUBLICANS WHO COULD CARE LESS and seem to be willing to sell out to an alleged Criminal Rapist of underage women for ONE VOTE.
The Democrats think they have this great strategy to force out Al Franken, who is not like Conyers in regards to his actions,so they can show they are more moral than the Republicans who have the super judgmental arrogant Fundamental Christians in their pocket. I saw an article the other day that said Trump supporters know who and what he is but they back him because he is a racist which is in sync with their feeling that Jesus only likes White Christians. So it is a tribal matter.
And if it is a tribal matter, then the higher ground argument will fall of deaf ears. You know the old saying "My country right or wrong."
So the smart thing to do is let the Ethics investigation go forward, see what happens with Roy Moore, and with Donald Trump and Clarence Thomas. In other words, let the hysteria settle down a bit and lets see the game the Republicans play if Moore gets elected:or the game if he is not elected because Trump and Thomas are still in play.
I say that Al needs to wait a couple of weeks and then say he has changed his mind about resigning based on events and he will abide by the Ethics committee. Or he can parrot the Trump and Republican argument that if Alabama wants to send a racist, rapist (touching an under aged girl in a sexual way is statutory rape. There is no defense. She is underage. Even if you did not know it.) to the United States Senate then so be it. Good for Moore. Good for Franken.
Hold on Al, let this matter play out for another few weeks. You can resign anytime but once you do that the game is over. All I have heard about is kissing. Bad move Al and something I do not agree with at all and have never done, but not on the same level as the Trump and Moore and Clarence Thomas actions. Not to mention the merciless post accusation personal attacks on their accusers.
WAKE UP DEMOCRATS. SETTLE DOWN AND WAIT JUST LIKE WE ARE ALL WAITING ON AND PRAYING FOR ROBERT MUELLER.
Dr John WorldPeace JD 171208
http://johnworldpeace.com
http://impeachpresidenttrumpusa.com
STUPID DEMOCRATS TRYING TO PLAY A HIGHER GROUND GAME WITH REPUBLICANS WHO COULD CARE LESS and seem to be willing to sell out to an alleged Criminal Rapist of underage women for ONE VOTE.
The Democrats think they have this great strategy to force out Al Franken, who is not like Conyers in regards to his actions,so they can show they are more moral than the Republicans who have the super judgmental arrogant Fundamental Christians in their pocket. I saw an article the other day that said Trump supporters know who and what he is but they back him because he is a racist which is in sync with their feeling that Jesus only likes White Christians. So it is a tribal matter.
And if it is a tribal matter, then the higher ground argument will fall of deaf ears. You know the old saying "My country right or wrong."
So the smart thing to do is let the Ethics investigation go forward, see what happens with Roy Moore, and with Donald Trump and Clarence Thomas. In other words, let the hysteria settle down a bit and lets see the game the Republicans play if Moore gets elected:or the game if he is not elected because Trump and Thomas are still in play.
I say that Al needs to wait a couple of weeks and then say he has changed his mind about resigning based on events and he will abide by the Ethics committee. Or he can parrot the Trump and Republican argument that if Alabama wants to send a racist, rapist (touching an under aged girl in a sexual way is statutory rape. There is no defense. She is underage. Even if you did not know it.) to the United States Senate then so be it. Good for Moore. Good for Franken.
Hold on Al, let this matter play out for another few weeks. You can resign anytime but once you do that the game is over. All I have heard about is kissing. Bad move Al and something I do not agree with at all and have never done, but not on the same level as the Trump and Moore and Clarence Thomas actions. Not to mention the merciless post accusation personal attacks on their accusers.
WAKE UP DEMOCRATS. SETTLE DOWN AND WAIT JUST LIKE WE ARE ALL WAITING ON AND PRAYING FOR ROBERT MUELLER.
Dr John WorldPeace JD 171208
http://johnworldpeace.com
http://impeachpresidenttrumpusa.com
Trump rally first test in Democrats' search for payoff from lawmaker purge
Alabama Senate candidate Roy Moore won't join Donald Trump at the President's Florida rally Friday night just 25 miles from the Yellowhammer State border.
CNN.COM
JUST HOW MUCH OF A ROGUE ANTI CHRISTIAN ANTI AMERICAN IS DONALD TRUMP???
Here is the scenario. Donald Trump has not hidden his contempt for Muslims and Islam. He attacked early on Muslim parents of a killed in action American soldier. Then he initiated his travel ban against Muslims. Then last week he intentionally tweeted false videos about Muslims in the UK that got a rebuke from Prime Minister May. And yesterday he declared Jerusalem the Capital of Israel against the advice of virtually everyone in the world. Muslims hate the state of Israel and now they hate Donald Trump and America. And Trump has merged the future of both America and Israel with his proclamation yesterday that Jerusalem is the capital of Israel. You know Israel, the Nation of the Jews for the Jews. The nation of the fascist Zionists. The Nation that wants to rebuild Solomon's Temple and again offer Blood Sacrifices to God.
WHAT ELSE CAN TRUMP DO TO DECLARE WAR ON ISLAM?
America (and Israel) now have ONE BILLION Muslims, many of whom are allies of the USA, pitted again the United States. And let me tell you this, the postage stamp nation of Israel cannot withstand the onslaught of ONE BILLION MUSLIMS.
When Mao Tse Tung was asked how he would defeat America during the Korean War he said he would surrender an Army a day. Point is that 30 million Jews are not going to outlast ONE BILLION Muslims. And oh yes, the war will not be limited to Jerusalem. Jews and Americans are subject to being attacked anywhere and everywhere in the world now that Trump has officially declared world war on all Muslims.
TRUMP HANDED ALL THE MUSLIMS OF THE WORLD A BATTLE CRY YESTERDAY. 'DEATH TO ALL AMERICANS. DEATH TO ISRAEL."
What did the United States gain by Trump's announcement? Nothing but a smiling Netanyahu and a lot of False Fundamental Christians who deny Jesus teaching that he is with us always even to the end of the Age and who is present when two or more are gathered in his name.
I CHALLENGE ANY PREACHER TO SAY THAT JESUS IS NOT PRESENT AT HIS SUNDAY SERVICE OR THAT JESUS IS NOT PRESENT WITH ANY WHO ARE IN DISTRESS AND PRAY TO HIM. Yet these false preachers claim that Jesus is going to come again. How is that possible. He never left?
Yet these ignorant fundamental Christians betting on the Book of Revelation, a book of prophesy written by John the Elder (not John the Apostle) who wrote Revelation while on the Isle of Patmos which was known for Mushroom induced visions about the future, think the Rapture is at hand now. And Jesus said that no one knows about the end times except God, not even Jesus himself. The book of Revelation is FALSE or as Trump would say FAKE.
These ignorant fundamental Christians have been listening to the Apocalyptic Second Coming nonsense (How does Jesus return when he never left?) from Rabble Rousing preachers for over 100 years every since they realized they could fill their tents and increase their fortunes by pushing THE FALSE TEACHING OF REVELATION. Ignorant people love tales of Doom and Gloom.
People expected the return of Jesus in 1000 CE, and it did not happen and again in 2000 CE and it did not happen and again in 2012 and it did not happen and now they promote the Second Coming when Jerusalem becomes the capital of Israel.
Let me tell you this. When Jesus appeared 2000 ago the Jews thought he would come as the warrior King at the head of a Holy Army to push the Romans out of Israel. Well he came with a message of Peace and Love and the Zionist pushed Pontius PIlot to crucify him as a heretic. In response, God allowed the Romans to destroy Solomon's Temple and drive the Jews out of Israel 40 years later in 70 CE.
Point is that the Jews were wrong about the Messiah who was coming 2000 years ago.
Now the Christians who have been told by Jesus that no one knows about the end times but God and therefore the mushroom enhanced vision of John the Elder while on the Isle of Patmos presumes to know God's intention contrary to the words of Jesus who flatly stated that no one knows the intentions of God not even Jesus himself.
So now we have a False Prophet Trump, a pawn of Satan, supported by Fundamentalist Christians to bring on a Christian/Jew vs. Islam Apocalyptic battle on the plains of Armageddon according to the Book of Revelation. With the result that Jesus will come and take all the White Christians off to Heaven during what they call the Rapture. Just Harry Potter fantasy.
You know after Jesus was resurrected, which was the Return of Jesus from the dead as he promised, he appeared like a ghost walking through walls and such. But he was not a ghost. Now if Jesus did return out of the sky and announce himself, everyone who saw it on TV or the internet would not believe it anyway. And the truth is the plots of the powerful would immediately develop to crucify him again because he would threaten their wealth. They would say to him as King Ahab said to the Prophet Elijah, "Is that you, troubler of mankind?". Some things never change.
Jesus healed thousands during his ministry. The Bible says his miracles were without number. Yet he died virtually alone on the cross in the greatest of pain. So I sort of feel that Jesus is not going to perform a lot of healing and miracles if he decides to appear in person on the Internet or TV. He has by the way appeared through out the last 2000 years, but most do not believe the testimony of those who saw him. And Jesus also said it was a wicked generation that demanded miracles.
For those who dont believe, no amount of miracles will be enough and for those who do believe miracles are not necessary.
America manifested Donald Trump. The Jews while Moses was on the mountain receiving the Ten Commandments built a Golden Calf to worship. When Moses came down from the mountain and saw the Golden Calf he destroyed the tablets on which the Ten Commandments were written.
Then the Jews later lost faith again and demanded that God give them a KIng because they were not satisfied with an invisible God to take care of them even after the miracles of the Exodus. So God gave them Saul who was not the kind of King the Jews expected or wanted. So the Jews have a history of defying and going against God. And Fundamental Christians believe Jews who are not born again will be condemned to Hell.
Now we have Americans demanding a Rogue President who came to destroy and deconstruct everything he could that made America great under the jingle "MAKE AMERICA GREAT AGAIN."
Jesus said, "Ask and receive, seek and find, knock and enter: if you have the faith the size of a mustard seed you can move mountains: If you will believe in me you will do the things I do and greater thing will you do." In a word, we individually and as a group and as a nation and as a world human society are writing our own script. Day to day.
And the American script was give us DONALD TRUMP the way the Jews screamed give us a Golden Calf, and later a King and then Barabbas when Pilot offered to free Jesus or the criminal Barabbas.
Well America how do you like you new King?
America has sowed the wind and now will sow the whirlwind.
Jesus never left. He has allowed human beings to chart their own destiny. He has been working billions of miracles big and small daily for 2000 years. He never left. He did this even as he said that EVERYONE FALLS SHORT. NO ONE IS WORTHY of God's grace.
Fundamental Christians witness to these miracles of Jesus on earth and at the same time say they are waiting for Jesus to return.
Well hang on friends. Jesus will NOT come to take Christians away while Satan rules earth according to Revelation. We dug our graves and now we will lay in them. We demanded this scenario, we wrote this script. There will be no escape. There will be no Rapture as the mighty mushroom drug vision of Revelation promises.
It appears that the great purging has begun. By the end of the century the world will be a desert, hot, devoid of flora and fauna that humans have exterminated to extinction. God in Genesis told man to take control of the world but he failed to mention that once it was tamed not to continue to destroy the Garden of Eden completely.
The great ascendance of human consciousness will come and as we scripted this devastation that is upon us we can script our way out of it. Ask and receive, seek and find, knock and enter.
God instructed Moses to lead the Jews around in the desert for 40 years to kill off two generations who were born in Egypt. He purged the Jews before he led them into the land of Canaan. Well guess what is about to happen? The Baby Boomers and virtually all those born in the Second Millennium are going to be purged before the children of the Third Millenium take charge of the world human society and create a more sane and just world.
If I am a minority of one. the truth is still the truth. Let those who have eyes see and those who have ears hear.
Dr John WorldPeace JD servant of Jesus Christ 171207
Interesting is it not that today is Pearl Harbor Day a day that has lived in Infamy.
The words that most impact on me right now are God's message to Belshazzar at his Feast: "Mene. Mene. Tekel Upharsin" and "Donald Trump".
http://johnworldpeace.com
The Latest: Nobel laureate Tutu denounces Jerusalem move
The Latest on the fallout from President Donald Trump's recognition of Jerusalem as Israel's capital (all times local):
WASHINGTONPOST.COM
REGARDING JERUSALEM AND JESUS
Friends Netanyahu does not endorse Trump's recognition of Jerusalem as the Zionist capital of Israel and he does not endorse Trump's moving of the US Embassy to Jerusalem. This puts him in a place to formally denounce Trump when the Middle East explodes due to Trump's insanity. The only person in the world for this announcement by Trump is Trump. This is just another side show he is famous for. This is just another red herring, diversion, of Trump to avoid the Mueller commission.
THE WORDS OF JESUS
"In my fathers house are many mansions, if it were not so, I would have told you, for I go and prepare a place for you. If I go to prepare a place for you, I will come again and receive you unto myself, that where I am, you may be also." John 14:2
The many mansions that Jesus is speaking of regards the many religions that God has blessed upon the world human society; not individual mansions for individual Christians. From Jesus own lips he refers to his Resurrection and not to the Second Coming as related in the FAKE book of Prophesy: Revelation. Revelation was written some 70 years after Jesus was crucified and all the Apostles were dead. Jwp
Jesus was condemned by the Zionist of his time who manipulated Pontius Pilate to crucify Jesus because the Zionist did not have that authority. I make a clear distinction in all my writings between Jews and Zionist. Zionists are the fascists of Isreal, as the KKK are the fascists of America and the Nazis were fascists of the Germans. I am not and have never been anti-Semitic. It appears from my family history that my father's father's family immigrated from Slawno Poland (Slavno under the Nazis) in the late 1800 and were apparently Jews until they settled in LaCrosse, Wisconsin and became Lutherans. Jwp
Jesus was conceived by the Holy Ghost, was born of the virgin Mary, was crucified, died and buried. On the third day he rose from the dead. (Apostle's Creed) From Jesus' own lips he refers to the Resurrection as his return and not to the Second Coming as related in the FAKE book of Prophesy: Revelation Jwp
"Lo I am with you always even to the end of the age" Matt 28:20
"For where two are more are gathered in my name, I am there in their midst" Matt 18:20
Jesus never left after his Resurrection. There can be no Second Coming if Jesus did not leave after his Resurrection. Jwp
When Jesus was asked if a woman had many husbands in life, whose wife would she be in heaven. "You are mistaken, not understanding the scriptures nor the power of God. For in the resurrection they neither "marry nor are given in marriage. but are like angels in heaven" Matt 22:28 There is no procreation in heaven where the souls of human beings reside. Only God can create souls. So those who transcend their human bodies to spiritual bodies are without gender. Jwp
When Job asked God why the wicked prospered and the righteous suffered, God refused to answer that question. God asked Job "Where were you when I laid the foundation of the earth?" Job 38:4.
Regarding the end times. "Of that day or hour no one knows not even the angels in heaven, nor the Son, but the Father alone." Mark 13:32
The Book of Revelation is FAKE. 1) Jesus never left after his Resurrection so there is no Second Coming only a first Resurrection. 2) Jesus said no one knows about the end times. Not Jesus and not the disciples wrote the Book of Revelation. But whoever did write it presumed to know the mind of God which Jesus clearly stated that he, Jesus, did not know regarding the end times but only God. 3) Human beings will not be raised from the dead in human bodies but as gender less angel bodies. Jwp
The only reason that Christians want recognition of Jerusalem is because it fits with their understanding of the FAKE Book of Revelation. They think that making the capital of present day Israel, Jerusalem, they will push God to a Book of Revelation scenario of Apocalypse and they will all be taken into heaven. That is False hope based on the FAKE Book of Revelation. Jwp
Further, do your really think God needs Donald Trump to forward his agenda on Jerusalem? Do you think that God would chose an unrepentant sinner, not church attender, a confirmed liar and fornicator and worshiper of money like Donald Trump to establish a New Jerusalem. Do you think that God intends to endorse Trump's attempt to establish a New Jerusalem of Zionist who subordinate the rights of Palestinians and maintain a concentration camp in Gaza for Palestinians. If so, you are delusional.
"I say to you, It is easier for a camel to go through the eye of a needle, than for a rich man to enter the Kingdom of God." Matt 19:24
God does not require Trump or Netanyahu to accomplish God's agenda. The Prophets of the Old Testament were not rich men whose God was money.
Netanyahu, knows these things and he has chosen to separate himself from Donald Trump on the matter of Jerusalem. The whole world is contrary to Donald Trump in this matter.
Six million plus Jews, male and female, not just the Zionist, were exterminated by Hitler and the Nazis. The Jews had a covenant with God to exit that Holocaust and become rabid antagonists of genocide by nations, religions and racist and women's rights worldwide but decided instead to take lessons from the most evil man in human history, Hitler, and become liars and persecutors of Palestinians who are Muslims. It is not God's plan to create a New Jerusalem for the Zionist as long as they continue to violate their covenant with God to TEACH PEACE in the world and defend the human rights of ALL HUMN BEINGS to the death.
"A new commandment I give you, that you love one another, even as I have loved you." John 13:34 THERE ARE NO EXCEPTIONS AS TO RACE, RELIGION, NATION OR GENDER IN THESE WORDS. Jwp
"Do not judge, so that you will not be judged." Matt 7:1 There are no exceptions to this. Jwp.
These are the words of Jesus as they apply to the world in general and to the nation of Israel in specific. They apply to Trump and Netanyahu absolutely as leaders of great nations. They apply to all the nations of the United Nations who have allowed the Zionist to maintain a concentration camp for Palestinians and deny the Palestinians citizenship in a nation as guaranteed per the United Nations Charter of 1948.
Dr John WorldPeace JD "A servant of Jesus Christ and not a servant of the Christian Church.
"Says the Lord, 'I will put my laws into their minds, and I will write them on their hearts. And I will be their God, and they shall be my people. And they shall not teach everyone his fellow citizens, And everyone his brother, saying 'KNOW THE LORD' for all will know ME, from the least to the greatest of them. For I will be merciful to their iniquities and I will remember their sins no more." Hebrews 8:10 You don't need to be a card carrying Christian to be a follower of Jesus. Jwp
http://johnworldpeace.com
http://kingofkingslordoflords.com
Netanyahu quiet on U.S. Embassy move in speech, focuses on Iranian threat
Analysts say the move could threaten Israel's improving relations with Sunni Arab countries.
WASHINGTONPOST.COM
LET US CREATE A LIST OF POLITICIANS WHO SHOULD RESIGN
You cannot demand Franken resign without a list of others who should resign. The top of the list should say Donald Trump and Clarence Thomas and Roy Moore if he becomes Senator Moore next week.
Dr John WorldPeace JD 171206
http://johnworldpeace.com
Al Franken Under Pressure As Group Of Democratic Senators Calls For Him To Resign
More than a dozen Democrats in the Senate are calling on Franken to step down. The Minnesota lawmaker is facing allegations from several women that he inappropriately…
NPR.ORG
GO FOR IT AL - IMPEACH TRUMP
I absolutely think it is time to take a head count on who is for and who is against IMPEACHMENT. We need a real time update and no matter what we need to move forward from that beach head of PRO - IMPEACHMENT FRIENDS to IMPEACHMENT. If we get more than 5 we are on our way.
As they say folks, TIME TO FISH OR CUT BAIT. TIME TO IGNITE THE CONVERSATION.
Dr John WorldPeace JD 171206
http://johnworldpeace.com
Trump impeachment vote will take place on Wednesday, Democrat Al Green vows
'I refuse to sit on the sidelines while the world is considering one of the greatest issues of our time,' the Texas Democrat said.
NEWSWEEK.COM
WAY TO GO TIME
We can only hope this adds fuel to the fire of #MeToo and it rids us of Clarence Thomas and Donald Trump.
I can only hope my TEACH PEACE movement in the Universities and WorldPeace movement could move so quickly. The whole world could step up to a higher consciousness over night.
Dr John WorldPeace JD 171206
http://johnworldpeace.com
TIME's 2017 Person of the Year... the Silence Breakers
TIME described its 2017 designee as "the voices that launched a movement."
TODAY.COM
TWO QUESTIONS ABOUT TRUMP SEXUAL AGGRESSION TOWARD WOMEN
1) Do you agree that the men who have been
recently fired for allegations of sexual agression
by women who interacted with them
should have been fired?
2) Do you think Trump should be investigated by
Congress for the 20 allegations against him
including his admissions of sexual assaults?
Dr John WorldPeace JD 171203 http://johnworldpeace.com
This is just another example of Trump disengaging the USA from world affairs when the world is headed toward globalism on all issues in the world human society. It will be up the the next president to try to reengage America in world affairs when the Trump clown leaves the American political reality.
Dr John WorldPeace JD 171203 http://johnworldpeace.com
Trump Boycotts U.N. Migration Talks
The White House's 'America First' policy makers see little gain in setting the global rules for migration.
FOREIGNPOLICY.COM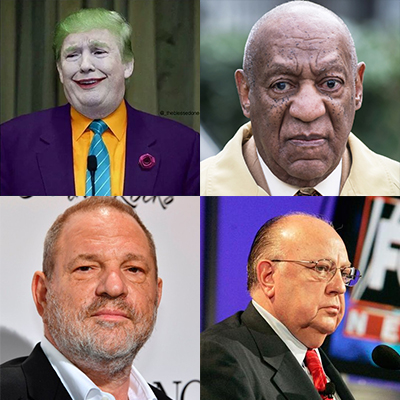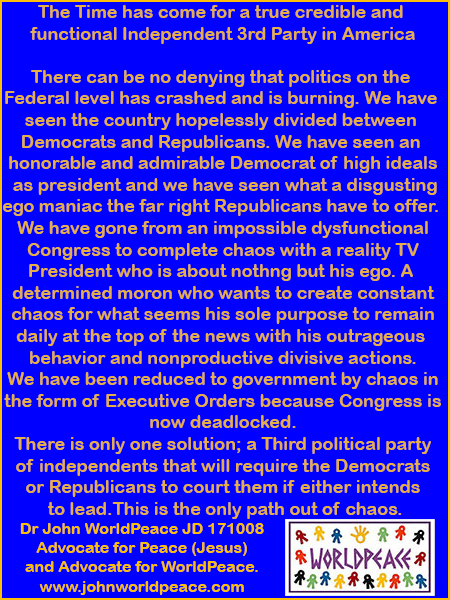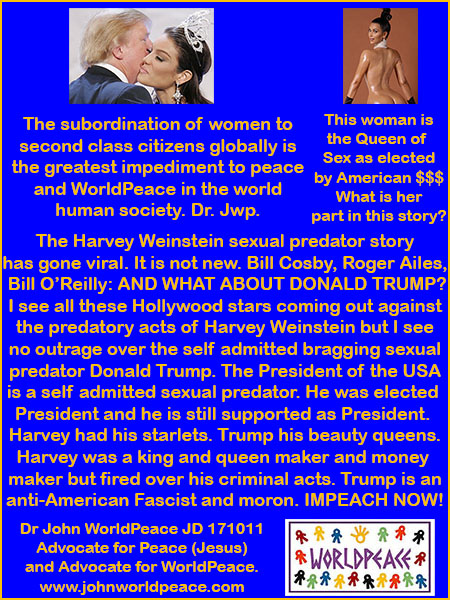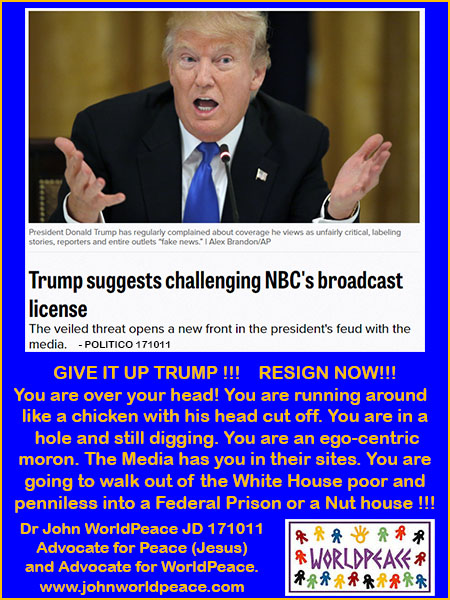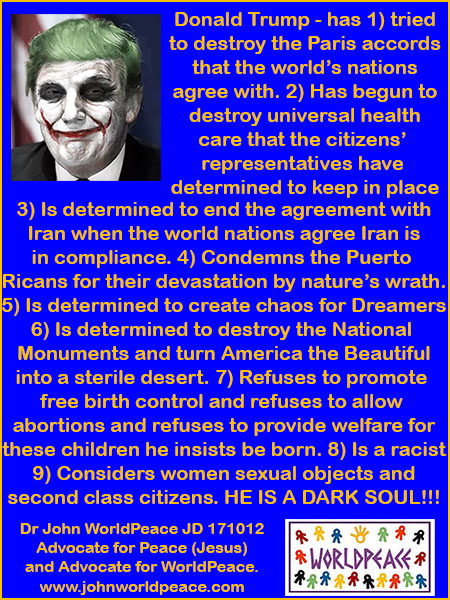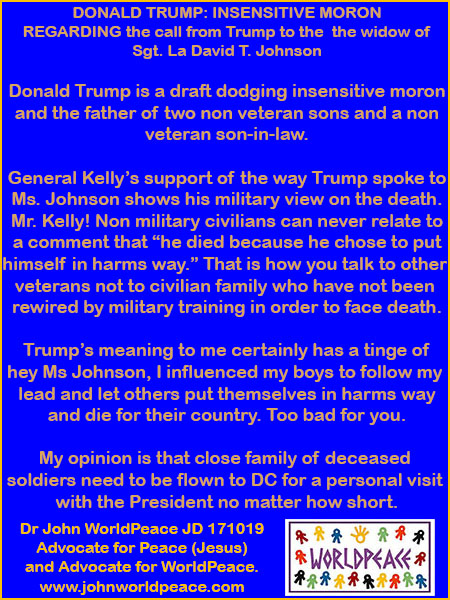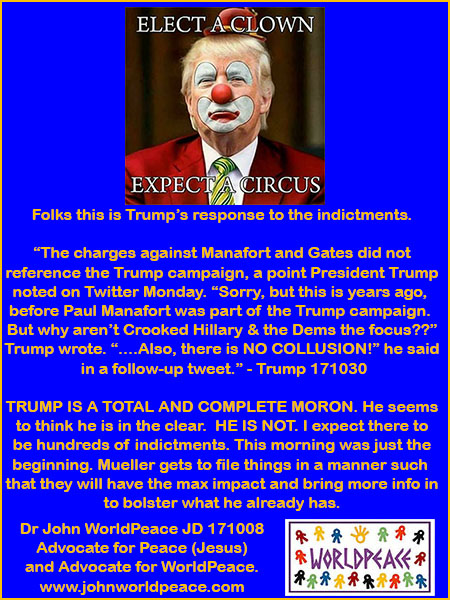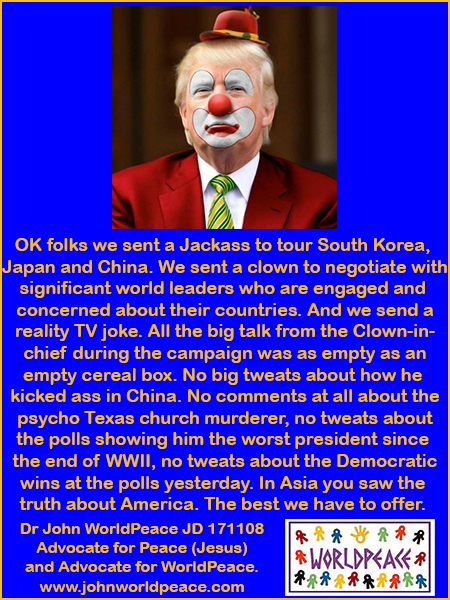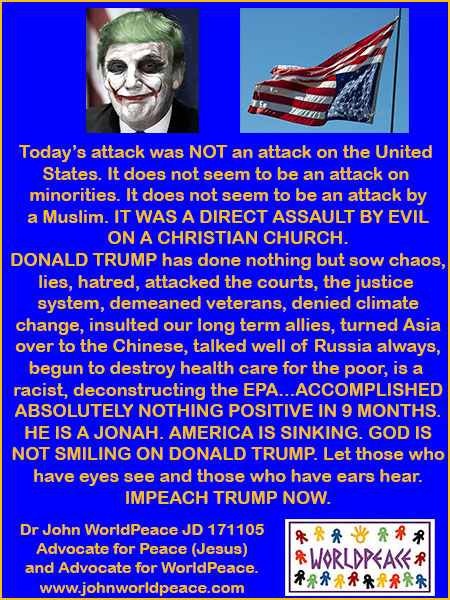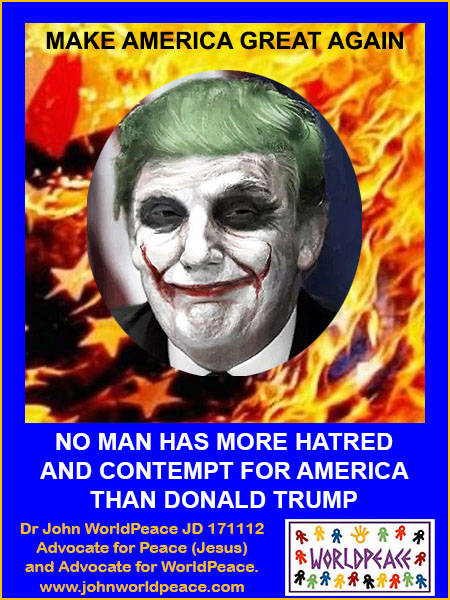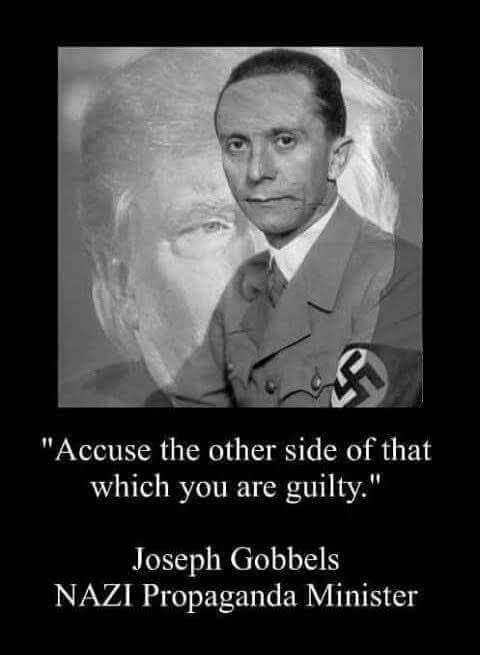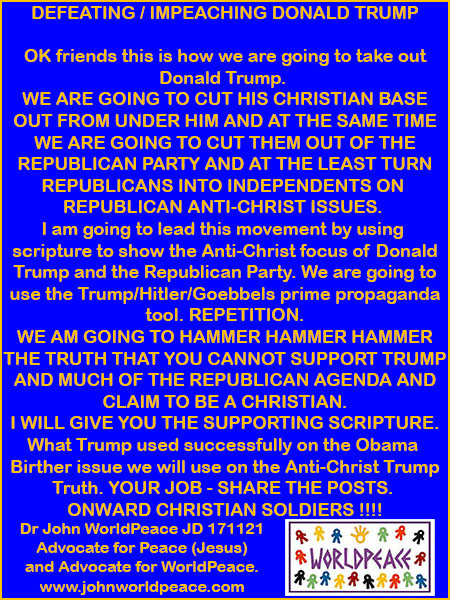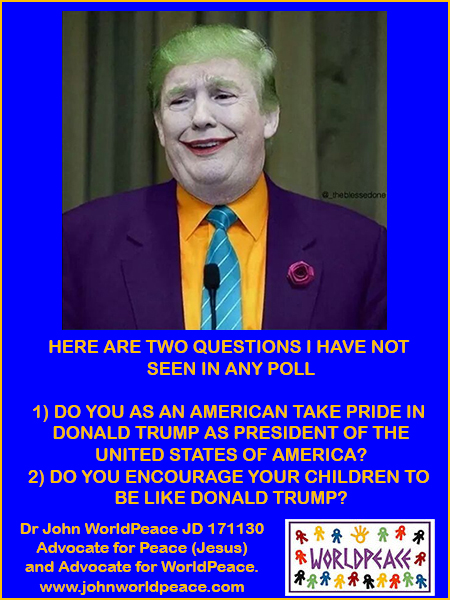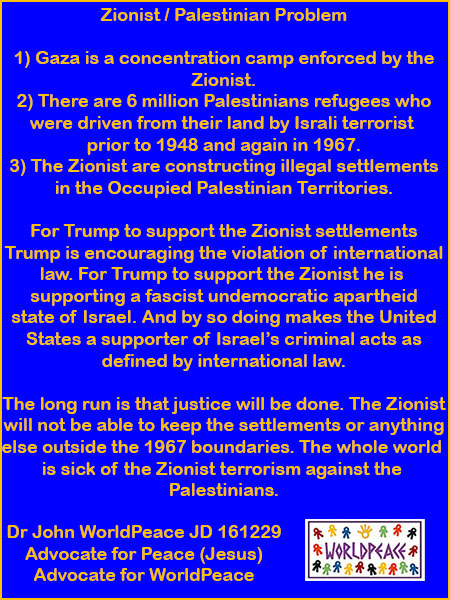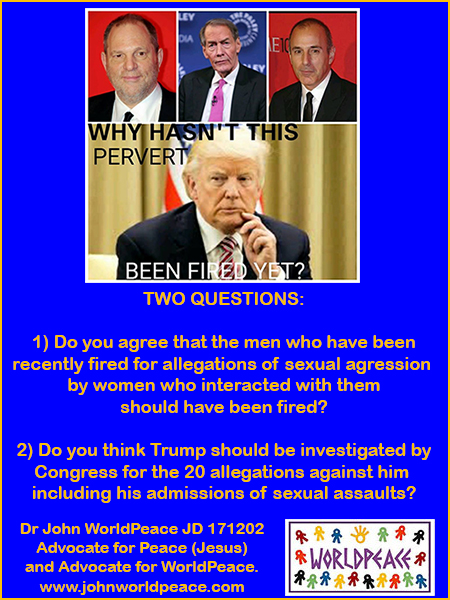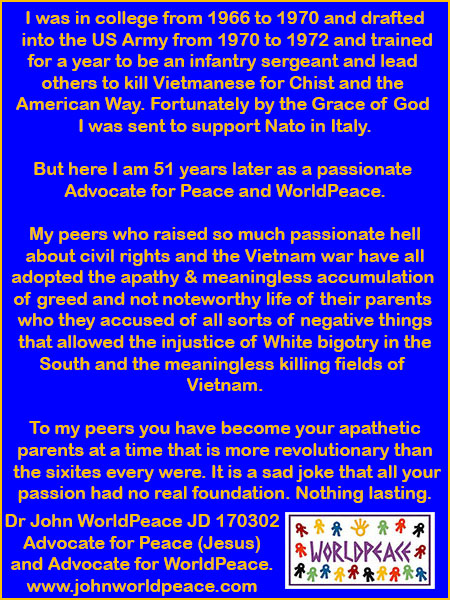 Friends I want to say that I believe there is an order in the Universe, God, and as it says in the Bible darkness has never overcome the light.
As each day goes by I feel more and more confident that Trump is going to be gone in the very near future. Americans are not stupid, even the stupid are not fools to be played as Trump has played them; and continues to play them.
MAKE AMERICA GREAT AGAIN - the poison pill for America and the world.
You can check my posts and see I have been saying this from the day I first heard MAKE AMERICA GREAT AGAIN. I knew it was a huge lie to call corruption and bad intent a high goal of Making America Great Again. WOW, it sounds so good. But it was and is the Blackest of all lies. It was a call to deconstruct American foundational values and turn America from a Constitutional Democracy into a Plutarchy where the power is held by 3% of the wealthiest people in America.
SO HERE IS WHAT I THINK IS GOING TO HAPPEN WITH TRUMP. Trump is fighting the Russian connection and Robert Mueller is slowly inserting the IMPEACHMENT knife into the fat gut and throat of Donald Trump. And Trump is facing that threat and has been facing it from day one of his presidency. It is the thing he most fears.
BUT FOR ME, COMING IN THE BACK DOOR IS THIS SEXUAL HARASSMENT REALITY THAT HAS GROWN SOME VERY STRONG LEGS VERY FAST.
Notice that the reaction is very swift to these credible female accusations against men in power who used their position to rape these women; actual rape and rape as severe abuse and complete and total disrespect.
As a white male and finding it impossible to escape comments from other white males who assume that I believe as they do just because I am a white male, I have heard just about all the degrading comments about women there is to hear in America.
The worst was a statement that "Women are just a life support system for sexual pleasure." The actual words are too base for me to use. But ask yourself if you can hear those powerful men who have been taken down repeating these words and having these exact thoughts.
The person who said it was dead serious. Women to him were sex objects and nothing more. They were tolerated for that reason and no other.
These words were right in there with the hateful and stupid moronic words I heard about Blacks as part of growing up and living in Houston, Texas prior to the civil rights movement about Blacks being nothing but mules who were not capable of much more than menial labor.
These are harsh realities but have no doubt they are real. Have no doubt that for every male career that is ruined there are thousands and thousands of men who will never be held accountable. What is happening now is an all out frontal assault on men in high places who have done these wrongful sexual things, not once, but as a habitual practice. Men like Bill Cosby and Matt Lauer. The ultimate father figures and family men.
We need to nail American Supreme Court Justice Clarence Thomas' hide to the wall with the rest of the male predators. And if we can make that happen, then Trump will fall and he will fall fast.
MY POINT is that we are all hoping that Mueller will be victorious in flushing the evil clown Donald Trump but the truth seems to me more and more each day that Trump will be gone over his sexual harassment and rape of women all of whom he has called liars. Well Donald things have changed dramatically since your sex tape was broadcast. It was not FAKE, it was not doctored, it was your big arrogant mouth. And Billy Bush has so witnessed this against your lies.
Friends ask your self, if that tape came out in today's environment, do you not believe that within hours of its broadcast, TRUMP WOULD HAVE BEEN DOA in the race for President.
Times has changed and they have changed fast; in less than a year. There is a sexual harassment tidal wave about to BLIANDSIDE TRUMP.
My female friends, do you realize that if you can take out DONALD TRUMP on his sexual behavior and attitude about women, there will be a global tidal wave that will dramatically erode the subordination of women in the world human society and break all kinds of glass ceilings.
For me the next big event in this sexual harassment scenario will be on December 12th in Alabama. If Roy Moore loses the Senate race, it will be because his rape of underage females did it. And if Alabama overcomes all their hatred for Democrats to do the right thing and terminate Roy Moore, then TRUMP is finished. I would say probably before the first anniversary of his inauguration.
And for us Democrats, we can only hope that the weight of Donald Trump around the necks of his Republican enablers in the Senate and House will take the Republican party down once and for all. Then like Texas until 15 years ago all the elections will be in the Democratic party which will take on a lot of Republicans as BORN AGAIN Conservative Democrats.
Dr John WorldPeace JD 171204 http://johnworldpeace.com
CBS/AP December 3, 2017, 10:04 PM
New York's Metropolitan Opera suspends relationship with conductor
https://www.salon.com/…/clarence-thomas-must-resign_partner/
I forgot about this guy. He need to reach back and turn the light back onto him. As in right now!
Dr John WorldPeace JD 171203 http://johnworldpeace.com
This is just another example of Trump disengaging the USA from world affairs when the world is headed toward globalism on all issues in the world human society. It will be up the the next president to try to reengage America in world affairs when the Trump clown leaves the American political reality.
Dr John WorldPeace JD 171203 http://johnworldpeace.com
The White House's 'America First' policy makers see little gain in setting the global rules for migration.
TRUMP IS A PLUTOCRAT and that is very bad for America if not traitorous.
The Libertarian Party (LP) is a political party in the United States that promotes civil liberties, non-interventionism, laissez-faire capitalism and the abolition of the welfare state. The Republican Party has a significant Libertarian base in the "Tea Party" faction.
Plutocracy (Greek: πλοῦτος, ploutos, 'wealth' + κράτος, kratos, 'rule') or plutarchy, is a form of OLIGARCHY and defines a society ruled or controlled by the small minority of the wealthiest citizens. The first known use of the term was in 1631.
IRON LAW OF OLIGARCHY, is a sociological thesis according to which all organizations, including those committed to democratic ideals and practices, will inevitably succumb to rule by an elite few (an oligarchy). The iron law of oligarchy contends that organizational democracy is an oxymoron (which means the nature of giant corporations is an enemy of democracy.)
Many people, and I am definitely one of them, know that Trump is a traitor to America's foundational core values. "All men are created equal, all men have the right to life, liberty and the pursuit of happiness." And the foundational principle of the Constitution and Bill of Rights was to build a firm wall that would protect and preserve these foundational principles by passing supplemental laws that would support the foundation of American Democracy. THE REPUBLICAN PARTY OF ABRAHAM LINCOLN HAS ALWAYS BEEN AN ANTI-AMERICAN IMPEDIMENT TO THESE FOUNDATIONAL PRINCIPLES.
I am a very well educated and well read rabid radical liberal believer in American Democracy. These American Foundational Principles are radical liberal mindsets. Jesus was a radical liberal teacher of "Love One Another" no exceptions.
Therefore, I am against virtually everything that Donald Trump is and represents. And I will repeat that I was illegally jailed in 2008 as a political prison as a result of me trying to cram these liberal American Politics down the CONSERVATIVE DEMOCRATIC PARTY OF TEXAS when I ran for governor of Texas in 2000-2002. I refused to yield and was later illegally disbarred and jailed for one year on a MISDEMEANOR charge of resisting arrest when a Federal Deputy US Marshall tried to serve a CIVIL NOT CRIMINAL bench warrant (A CORRUPT JUDGE'S ORDER TO TRY TO FORCE ME TO APPEAR IN COURT AS A WITNESS) on me. The Deputy's affidavit was a lie but no judge or jury is going to see anything a cop says in court as anything but the truth. I pled guilty, took the misdemeanor, as opposed to going to trial and ending up with a potential felony conviction and up to 40 years in jail. Yes 40 years. The political judicial system is extremely powerful and corrupt. But as a result of my personal experience, I have my Peace Advocate bona fides by way of my illegal prosecution and incarceration.
However, as the poem INVICTUS says:
"In the fell clutch of circumstance
I have not winced nor cried aloud.
Under the bludgeonings of chance,
My head is bloody,but unbowed."
LET ME BEGIN BY SAYING THAT TRUMP WAS ELECTED WITH A MINORITY OF THE VOTE AND THAT MEANS THE MAJORITY OF AMERICANS UNDERSTAND AND KNEW EXACTLY WHAT HE IS AND SINCE HIS INAUGURATION MORE PEOPLE KNOW THEY WERE DECEIVED BY TRUMP. SO THERE IS HOPE.
BUT MAKE ABSOLUTELY NO MISTAKE, AMERICA WILL BE SEVERELY CRIPPLED IF TRUMP IS ALLOWED TO CONTINUE HIS ANTI-AMERICAN AGENDA TO DECONSTRUCT AMERICA FOR ANOTHER 38 MONTHS. THE DEMOCRATS MUST TAKE BACK THE SENATE AND HOUSE IN 2018.
THE POINT IS THAT THERE IS HOPE.
More than a few of us have been trying to figure out just exactly what America is dealing with in regards to Donald Trump. What we knew intuitively, was that he was a traitor to American foundational values, is now coming into clear factual focus. He is a libertarian and a plutocrat. He is isolating America, he is taking down all the safe guards against corporate predators, he is moving wealth from 97% of the population to the 3%. He is a radical racist. In truth, he is a Southern Plantation owner in mindset of 1860.
This opinion is right on target in defining Trump and what he is doing to America. He is deconstructing America's foundational principles at every turn and distracting the radical right baby boomers with talk that amounts to turning back the clock to the 1930's when White was right and money and power rules. His anti-American message along these lines are blinding those who voted for him who are not in the top 3% to the devastation he is bringing to them. By the time they wake up, just like with George W. Bush, and his wars based on lies and economic destruction, it will be too late. It will take decades for America to crawl its way back to the top of the New World Order with China blocking the path to the top of the global political pyramid.
So read this post and read the article however many times you need to until you get it. Trump is not operating in a vacuum. We can see what he is doing. He cannot hide it. We can see what the Republicans are doing, they cannot hide it. It is time to pay attention. America is in trouble. Every real American needs to hang the American flag upside down as a statement that America is in peril.
My signature saying, is "How can we manifest peace on earth if we do not include everyone (all races, all religions, all nations, all genders) in our vision of peace? Answer is we cannot. An American peace with never manifest WorldPeace.
Racism, nationalism, religious intolerance, the subordination of women as second class citizens are all Elitist, Exclusionary mindsets. Democracy is all inclusive and democratic. Donald Trump is a 3% Plutocrat and is moving as fast as he can to further empower the top 3% by wealth and power at the expense of the other 97%. And he is doing this by diverting the attention of his base with his attacks on non white and Muslims and other anti-democratic targets.
Donald Trump is the result of Hitler and Goebbels propaganda principles that led Germany to virtual total destruction. But here is the new twist of the post World War Two era and fully matured in the 21st century. Propaganda via sound bytes and happy funny entertaining reality TV. Donald Trump promoting money and White power and Kim Kardashian promoting sex in reality TV. The harsh propaganda of the Nazis has been turned into user friendly reality TV.
Add to reality TV what the stock market has labeled as FANG (Facebook, Amazon, Netflix and Google) who know more about its users than any government will ever know and you have a poisonous mix globally that is detrimental to democracy and freedom globally.
Not to mention that no computer system is hack proof. Meaning Putin has it right. Use the social media and hacking to skew the foundation of democracy: free elections.
FACE REALITY, RUSSIA IS THE ONLY SUBJECT THAT DONALD TRUMP CONSTANTLY SAYS GOOD THINGS ABOUT. WHAT IS WRONG WITH THIS PICTURE.
The United States is a 250 year old political experiment. Unique, one of a kind. And here is my reality, within the borders of America we have proved that all religions, all races, all nationalities can live in peace. America is the model for the world human society. Its social success is undeniable. But we have a very dark force headed by Donald Trump and supported by corrupt Republicans that is deconstructing America.
I am running for President. I am preparing day by day my campaign. I learned a lot running for governor of Texas. Will I become president? Can a grounded radical liberal American veteran win the 2020 Presidency as a Democrat?. Who knows? But for two years I have been attacking, Donald Trump, the biggest threat to American Democracy and peace in the World Human Society. And that will not stop until Trump and Pence are out of office. I will not die one day far into the future and not be able to say to myself "I TRIED."
IMPEACH TRUMP NOW
Dr John WorldPeace JD 171201 
http://johnworldpeace.com
http://drjohnworldpeacejdforpresidentusa2020.com
http://impeachPresidentTrumpUSA.com
Share this, friend me, follow me on Facebook. Now is the time for all good men and women to come to the aid of America. God Bless America
And people are more motivated by cultural, social, tribal issues than their wallets.
THE TRUMP "ANTI-AMERICAN / BUSINESS ABOVE ALL OTHER ISSUES" IS COALESCING INTO A VERY SERIOUS THREAT TO AMERICAN DEMOCRACY.
This is what we know about Trump among other things. One, he is rabidly pro business and if there is one campaign promise he is keeping that is to unbound Corporate America, the banks, the insurance companies, the stock brokers, the oil companies. All the decades of legislation that has been created to keep these money men in check after their manipulation of the economy and the screwing of the average Americans are being dismantled by Trump.
This goes all the way back to the 1929 stock market crash. Republicans are bad for the average American and good for the money men. (There are money women too but the majority of these corruptors are men.) This Mulvaney is another White money man.
Two, and this is new, the corporations are now very confident that Trump is going to run America as a company and nothing but money and business is going to rule everything he does. The only template is do the White money men gain more freedom to do evil in the name of business. Corporations are about money and the stock market and insurance companies and banks are about money manipulation. They have a mandate to make money and that is their morality and their ethics. Make money. And that means to screw the average citizen who owns no stocks and does not work at the top of the capitalistic system.
We have yet to see what is going to happen to the tax legislation but I think we all know that is probably going to be more money for the rich and the corporations and less to the average citizen. But I am not wanting to talk about that in this epistle.
Three, the judge who ruled against Ms. English was appointed by Trump. So what do you think the ruling was going to be. Friends, having spent 20 years practicing law and having been disbarred illegally after running an in your face campaign for governor of Texas 2000-2002 I can tell you there is no justice and the whole legal system is corrupt and every judge is biased and corrupt.
All the major law firms is where the vast majority of judges come from. The big firms have the big money men clients. You do bad things but you have business oriented judges and Republicans hearing the case, well the business interest will win.
Let me tell you an absolute truth. A judge can guide any case in any direction he or she wants. He does this by deciding what evidence is heard. He decides what the jury can hear. He rules as he pleases. Then you get to the appeals court that has a tendency not to over rule the lower courts because they all again come from the same top law firms and in many cases they are not required to even hear an appeal. The supreme courts are less likely to hear an appeal. So what happens in the lower court is usually the way things are. It means a smart trial just can rule anyway he wants and can close the doors to an effective appeal.
So where is all this going in a nutshell. The corporations are going to be able to wash billions of dollars that are in overseas accounts, more money will go to the corporate officers as bonuses, the tax rate will be cut on individuals as well so there will be a huge transference of wealth to the wealthy and big corporations and money men.
Those tax cuts are going to increase the federal deficit.
Everything under Trump is skewed toward the money men and against the average American who are going to pay down that deficit. There will be no jobs created by corporations unless they are denied tax cuts except where they can prove they increased their work forces. That is not going to happen. Trump is going to make the top 5% of Americans richer and put a burden in the long run on the average American.
THE REAL PROBLEM HERE IS THAT IN THE LAST MONTH WE HAVE SEEN THE MONEY MEN GETTING IN LINE WITH TRUMP, REGARDLESS OF WHAT AN ANTI-AMERICAN SCUM BAG HE IS, BECAUSE HE IS MAKING THEM ALL MONEY.
It will take a while for all this to become obvious to the ignorant people who voted for Trump believing all this lies. I dont have time to list all his lies. The most obscene current lie is that his admission regarding his sex tape that it was real is now being back spun to the Fake News bin. He admits to something and now he says it was Fake. AND ALL HIS STUPID AVERAGE AMERICAN SUPPORTERS EAT THIS EXCREMENT LIKE IT WAS FILET MIGNON. WELL STUPID IS AS STUPID DOES.
With the money men in step with Trump and no amount of greed and no amount of preying economically on the average American having any limits you can bet there is going to be the mother of all financial crashes within 5 years. The money men will make billions. The future under this scenario is only bad for America.
The only real hope I see is the Russian investigation. But it has to pick up the pace. Trump Jr and Jared Kushner have to be headed for jail and then they will have to turn on daddy Trump and go over to Mueller.
If Mueller stalls and the tax package as now designed passes then America's great democratic experiment is going to crash and burn. The founding fathers never foresaw the potential of capitalism run amok aided by computers that have the capacity to process economic models with hundreds of thousands of variables to allow the manipulation of the stock market and the entire global economy.
Yes I am saying the sky can fall. All good things can come to an end. With the money men behind him, it is impossible to conceive the collateral damage of Donald Trump's bad motives.
The money men do not think the system will crash no matter how badly it is manipulated and they do not see a second American revolution that looks more like the French Revolution. You know where the average citizen started cutting off heads of the elite in France.
Republicans need to be very mindful that Americans are armed.
America is approaching a very dark tunnel. One that no one could have ever predicted. IMPEACH TRUMP NOW.
I took a break from posting to gain a view of the forest as opposed to attacking the trees. I am back. The Trump deconstruction of America is happening. The question is will Trump be allowed to take America over the cliff to world subordination to the Chinese. Once the Chinese are in power they will make sure that America never rises again. Did you wonder why Zuckerberg learned to be fluent in Chinese????
And as an aside, if anyone has any doubt that Trump is a White racist and hates all muddy people (people of color) you are totally delusional. Whiteness is right there next to Money is God in Trump's reality. Trump's money God is White.
Dr John WorldPeace JD 171128 
http://johnworldpeace.com
Leandra English says she'll spend the day at work, despite a Trump-appointed rival claiming her job.
DONALD TRUMP AND THE TEN COMMANDMENTS. YOU CANNOT BE A CHRISTIAN AND SUPPORT DONALD TRUMP!!!
ONE: Thou shalt have no other Gods before me. THE GOD OF DONALD TRUMP IS MONEY. WHO WILL DENY THIS.
24 No one can serve two masters: Either he will hate the one and love the other, or he will be devoted to the one and despise the other. You cannot serve both God and money. Matt 6:24
TWO: Thou shalt not make unto thee any graven image, or any likeness [of any thing] that [is] in heaven above, or that [is] in the earth beneath, or that [is] in the water under the earth: 5 Thou shalt not bow down thyself to them, nor serve them: for I the LORD thy God [am] a jealous God
Consider the TRUMP golden brand. T R U M P.
FOURTH: Remember the Sabbath to keep it holy.
I have read no news about Donald Trump going to church on Sunday or any other day. Or even reading the Bible.
SIXTH: Thou shalt not kill.
How many thousands or millions will die without heath care - IN AMERICA because of Donald Trump and Mitch McConnell and the Republicans hatred of the poor?
SEVENTH: Thou shalt not commit Adultery
Not only is Trump guilty he has bragged about assaulting women and claimed they let him do it. The public and press are in hot pursuit of every Sexual Abuser EXCEPT Donald Trump. GO FIGURE.
NINTH: Thou shalt not bear false witness against thy neighbor.
Virtually every word out of Trump's mouth is a LIE. wHO will deny this?
IF YOU SUPPORT DONALD TRUMP YOU ARE A SELECTIVE CHRISTIAN IF A CHRISTIAN AT ALL. THE CHRISTIAN FOUNDATION OF AMERICA IS A HUGE JOKE TO DONALD TRUMP.
IF I AM A MINORITY OF ONE. THE TRUTH IS STILL THE TRUTH.
BRING BACK AMERICA AND CHRISTIAN VALUES - IMPEACH TRUMP NOW.
Dr John WorldPeace JD 171121
TRUMP THE ANTI-SCIENCE MORON PRESIDENT WHO IS STOPPING CLIMATE SCIENCE DOES NOT GET IN HIS WALNUT SIZE BRAIN THAT A FEW MILLISECONDS OF DECREASED ROTATION OF THE EARTH CAUSES SIGNIFICANT EARTHQUAKES EVERY FIVE YEARS. IS THIS ARTICLE FAKE SCIENCE? NOT. CLIMATE CHANGE IS WARMING THE PLANET AND WHO KNOWS WHAT THE TIPPING POINT IS FOR GLOBAL CATASTROPHE IF NOT GLOBAL APOCALYPSE. WE CAN'T STOP A ROGUE ASTEROID FROM SLAMMING INTO THE EARTH BUT WE CAN DO SOMETHING ABOUT FOSSIL FUELS WARMING THE PLANET.
I cite the line in the movie Red October where the Russian officer says to the reckless captain as their own torpedo is about to blow up their sub. "You arrogant ass, you've killed us."
I am not an apocalyptic person and certainly don't believe in the fictional scenario in the Book of Revelation (because Jesus said I will be with you always, and where two or more are gathered in my name I am there, and no one knows about the end times but God. JESUS NEVER LEFT.) I do know the earth is in a sensitive balance and increasing the temperature a few degrees can cause earth quakes and volcanoes and awaken the super volcano in Yellowstone where the ground has recently risen 3 meters, not to mention melting the weight of ice that keeps the volcanoes under Antarctica in check.
Think about a millisecond as measured by atomic clocks causes a 5 year cycle of great intensity earthquakes.
Here is a reality check for all gamblers, "Never bet more than you can afford to lose." Folks, there is no Planet B.
We need climate science and a lot of it. You fools who keep supporting Donald Trump could well be about to kill a whole lot of us. We do not know enough about the earth to know all the negative possibilities. But we have the scientific tools to go fast to find out. Think about one moron President being allowed to stop climate research when the whole rest of the world has the opposite focus. Once we reach the tipping point we will not be able to put centuries and decades of bad fossil fuel decisions in reverse. We will have to ride this exploding earth.
Do you really think Jesus is going to step in at the last minute and save Christians who were committing suicide by supporting Donald Trump. Jesus is not coming back. He never left. Wake up and pray we dont have to smell the hell fires of ash raining down. I tell everyone I know I am going to die but I don't want to die of my own stupidity. TRUMP IS OUR STUPIDITY.
This threat alone is enough to IMPEACH THE MORON IN RESIDENCE IN THE WHITE HOUSE.
I am an advocate for peace. I am not a pacifist. I will not play pacifist against a Lying, Ego Maniac Moron TRUMP.
Dr John WorldPeace JD 171119 www.johnworldpeace.com
Scientists say number of severe quakes is likely to rise strongly next year because of a periodic slowing of the Earth's rotation
IN TWO YEARS OF POSTING NEGATIVE TRUMP OPINIONS I HAVE FOUND A PASSIONATE ARTICULATE PERSON (WHO HAPPENS TO BE A WOMAN) THAT MAKES ME FEEL HOPE THAT WE CAN TAKE BACK AMERICA FROM THE DARK MORON IN CHIEF AND THE MINORITY OF IGNORANT AMERICANS WHO STILL SUPPORT HIM AND HIS SQUID AND HIS DARK APPOINTEES AND STAFF.
PLEASE SHARE THIS!
Dr John WorldPeace JD 171118
http://johnworldpeace.com
Interesting perspective from NanceGreggs at DemocraticUnderground.
"Fuck. This. Shit.
I am about to become very unpopular – but I don't give a fuck, so here goes.
I don't believe the photo of Al Franken and Leanne Tweedon is an example of sexual harassment, misogyny, or any of the other things it has been described as. As the photo makes abundantly clear, Franken was not touching Ms. Tweedon's breasts – he was clearly "hamming it up" for the camera, and NOT engaging in sexual misconduct by any stretch of the imagination.
Many have said that even joking about such things is, in and of itself, demonstrative of some underlying disrespect towards women. I call bullshit on that, and strenuously so.
To say that what is inappropriate now was always inappropriate is to ignore the fact that attitudes change, and what was accepted as humour back in the day, or in a certain context, may not be acceptable when judged by current-day standards. Thankfully, such standards change as we evolve as a nation and as a people – and what was laugh-inducing once upon a time is no longer a laughing matter when viewed through a 2017 lens.
How many of us laughed – and still laugh – at shows like I Love Lucy and The Honeymooners, which depicted women as easily-befuddled females whose only true passion was buying a new hat? We accept that punchlines that were funny in the 'fifties are not relevant in 2017, and surely we have the intellect to realize that that was then, and this is now. We understand that context matters, and that Lucy Ricardo and Alice Cramden, while representative of the stereotypes of their era, are not representative of women in today's world.
In judging what was acceptable in the past and what is acceptable now, it is disingenuous to apply the same litmus test across the board – as though times never change, as though the times in which we once lived have not been relegated to the dustbin of history, as though we have not outgrown depicting women as scatter-brained, hat-buying females who do housework while wearing pristine shirt-waist dresses accessorized with a string of pearls.
The fact that Ms. Tweedon suddenly remembered how horrifying an experience working with Al Franken was – the fact that the already-disgraced Roger Stone tweeted that it was "Franken's turn in the barrel" BEFORE Ms. Tweedon came forward with her accusations, the fact that whataboutism is the ONLY defence Republicans can come up with to dispute Roy Moore's pedophilia is as obvious as it is despicable.
I've read here on DU and elsewhere, time and again, that we should judge people by their actions. Senator Franken's actions in terms of women's rights speak for themselves.
I am appalled by how easily some people have been led to believe that Senator Franken is a sexual predator based on the word of a Trump-supporting Republican who has conveniently accused him of sexual misconduct at exactly the same time a GOP pedophile has been accused of molesting teen-aged girls. I am especially appalled by those who are equating an obviously "for yuks in front of the camera" photo as evidence of "both sides do it, so let's just call it a wash".
EVERY Democrat who is buying into that false equivalence is being played by the Republicans – and they really should know better.
In the meantime, the Republicans are laughing their asses off at Democrats who think (wrongfully so) that if we "sacrifice" one of our own on the altar of tit-for-tat, we come across as "fair and balanced".
I stand with Senator Franken on the basis of what he has done, and continues to do, to further the rights of American women, and his willingness to stand with us when it counts.
I am not interested in what Al Franken said or did as a comedian – I am interested in what he says and does as a SENATOR. It is unfortunate that some people can't distinguish one role from the other. It is equally unfortunate that some people are so anxious to believe that if we just throw one of our own on the funeral pyre, we have somehow appeased the what-about-him media gods who have decided that a human sacrifice on our part somehow evens the score – as though "evening the score" is what is important here.
If you're buying into the current "both sides do it" bullshit being proffered by the right-wing, you are being manipulated by the very people who know how easily-manipulated you are."
WHAT A STUPID MORON TRUMP IS ABOUT SEXUAL ABUSE
Trump the self admitted groper has no platform to talk about Moore or Franken.
And when they set up the ethics parameters then they need to go after Trump before anyone else. The ethics thing is going nowhere. Most of those politicians are rabid fornicators. It is laughable that they would point the finger at anyone.
Further, you cannot enact ethics and then harass or prosecute people for PAST BEHAVIOR UNDER NEW STANDARDS. What is done is done. And if no law was broken at the time and the statute of limitations has not run, move on.
I agree there need to be some bright lines drawn about sexual abuse in the work place and in politics as well. But I am real curious why these women have not named other abusers. In other words, why are these women, most of whom are very desirable, or were, not naming all their abusers?
I know women who let you know right off that they are absolutely not open to be hit on. And for the most part men leave them alone. Other women play the game. They do not put up that facade of don't dare touch me and I am not open to any sexual innuendo. In a court of law you will naturally try to find out what kind of woman you are dealing with.
So I absolutely agree that serial predators like Cosby, Weinstein, Kevin Spacey and especially TRUMP, need to be shut down. But one time offenders, no way.
And to repeat, if McConnel is not going after TRUMP then leave everyone else alone as well.
I am not really shocked that the self proclaimed abuser in chief would be critical of others less guilty that himself. WHAT A PIECE OF WORK TRUMP IS. PIECE OF GARBAGE ACTUALLY IN MORE WAYS THAN ONE.
Dr John WorldPeace JD 171117 www.johnworldpeace.com
"The Al Frankenstien picture is really bad, speaks a thousand words. Where do his hands go in pictures 2, 3, 4, 5 & 6 while she sleeps?" Mr. Trump tweeted
THERE IS NO END TO TRUMP'S HATRED FOR ALL LIVING THINGS
I grew up closely associated with my grandfather's farm and I have hunted birds and deer and rabbits and squirrels and such until I was about 40; but not significantly. Then I just did not see the point. I cannot help but think now that the animal I kill may in fact be the one that would produce the last of it kind on the earth.
Trump Jr is an avid hunter. He loves to kill animals as the mark of a real man. He is a sick person anyway and killing animals for sport in the modern world is insane. We are headed to a deserted planet. What made the earth a Garden of Eden is disappearing at a very rapid rate.We as a human species are headed toward a sterile life; somewhat like biological robots who have no use for anything living thing.
There are people and there are many of them, who will not have any problem killing the last of any species.
I will say that I understand that Ducks Unlimited has been responsible for the conservation of migratory birds in America. And I will have to say that the fur industry values pelts and that may well be the only thing that keeps these valued species in existence. But these things are really just a stop gap to the reality that human beings love to kill and they will kill for no reason but to kill and they will kill until every species is extinct..
Christians think Jesus is going to return, when actually he never left (Lo I am with you always even until the end of the earth. Where two or more are gathered there I am. You cannot reconcile these verses with the Second Coming of the book of Revelation)
Jesus is not going to come and wave his hand and everyone love each other and the desert planet will be returned to a Garden of Eden by Jesus. We destroyed the Garden of Eden and we will live in the wasteland. Jesus is present watching the evil of humanity. God had good reason to wipe out humanity. Humans will never change. Humans are a lethal virus that plagues the good earth.
And America elected Donald Trump to increase the pace of our trek to sterilize the earth. What a sick and demented person he is.
There is nothing immune from the destruction that this son of Satan intends to spread throughout the good earth. Each day more and more I see Donald Trump as the bastard son of the Darkest Evil.
Dr John WorldPeace JD 171116 www.johnworldpeace.com
The Trump administration is reversing a rule that banned the import of trophies from elephants legally hunted in Zimbabwe and Zambia.
THE REPUBLICAN CIRCUS
It seems the Republicans are selective about which female abusers they want in their party. Yes to Donald Trump all those women who said he grabbed them are not to be believed but all those who accuse Roy Moore are telling the truth. Does it have something to do with honest Alabama women and lying New York women?
Hey Mitch when you let the Clown Prince into the party you opened the door to every dirty mangy political dog in America. You put a sign on the entrance to the Republican Party that Trump Clones are welcomed.
And another strange twist is that Trump admitted being a grabber and all those who agreed from experience are liars. Roy Moore denies the charges and never admitted he likes illegal teenage girls so those who say he molested them are honest.
You guys can't pass any significant legislation. You are the party of the Presidential Executive Order. You are all running around like a bunch of chickens with heads cut off. The Presidential Clown disease is obviously infectious.
Elect a Clown, expect a circus. I think the Republicans are basically a Cluster Something. I can't recall that other word. Sounds like Firetruck or has some of the same letters. I just dont remember right now. But most know what I am talking about. I think Chinese Fire Drill was the old word. No offense to the Chinese.
Anyway Trump and his Obama Birther fixation and Mitch with his ACA fixation are examples of politicians with the wrong stuff or the Russian stuff or the Hitler stuff.
You Republicans are in a hole and still digging. What I am seeing is that there are more and more sane Republicans standing up and pushing back against Mitch and Trumpee. I am sure they will survive the November 2018 elections.
We really have to go back to Eisenhower to get a good Republican President. Republicanism seems to be a degenerative political disease.
Dr John WorldPeace JD 171115 www.johnworldpeace.com
A growing number of Republican senators have said Moore should drop out of the race.
TRUMP IS BUCKLING UNDER THE CONSTANT ATTACH AND HIS LIMIT BRAIN PAN TO DEAL WITH IT. NOT TO MENTION HIS DECONSTRUCT AMERICA MINDSET.
Friends, Trump is losing it. The pressure on him is getting to him. Now we have Articles of Impeachment filed. We are headed toward a tipping point where the whole government is going to be focused on what to do with a Rogue President.
Forget the tax bill. Work on Impeachment.
The Republicans are going to sink with Trump. The window for them to jettison Trump is closing day to day. Republicans are obstructionist and insane in that they keep trying to float the end of ACA and they keep being pushed back. That is insane. Doing the same thing over and over expecting a different result.
The Republicans are paying the price of being obstructionist for the last 10 years. American Politics is about compromise. That is not the current Republican mindset. They are the fascist party. Be careful Republicans. You are overplaying your hand and the fallout is only 50 weeks away in November 2018.
Dr John WorldPeace JD 171115 www.johnworldpeace.com
President Trump was slammed on social media for an apparently errant tweet about last week's mass killing in Texas – sent on the same day a gunman went on killing spree in California. "May God be w…
The parallels between Hitler, Goebbels and Trump are undeniable. Make Germany Great Again was the Nazi mantra. Where have you heard something like that?
The acts of Donald Trump are of an AMERICAN anarchist. His agenda is the destruction of the EPA, Education, Health Care for everyone, National Monuments turning them over to exploiters of natural resources, State Department, Justice system, International Trade Partnerships, Climate Change, Immigration, racism against Muslims and Hispanics, shifting tax burden to the middle class.
Trump has no positive agenda for anything. He does not need one because his agenda is destruction.
Dr John WorldPeace JD 171115 www.johnworldpeace.com
When it came to the masterful manipulation of media, the Fuhrer's propaganda chief had no equal… at least not until now, and the triumph of Republican's will.